You are here: Home > News > Important travel information for Airparks Gatwick
Important travel information for Airparks Gatwick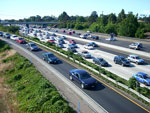 If you're due to be travelling to Airparks Gatwick in the next five weeks, please be aware of the following information regarding travel.
Due to roadworks, all travellers using the M23 may suffer delays on the approach to Airparks Gatwick. In this case, we recommend that you allow extra time for your journey to avoid any hold-ups.
If you are due to be travelling to Airparks Gatwick on February 22, or any day in the week commencing March 22, please be aware that junction 9 will be closed between 8pm and 6am. All travellers will need to use junction 10 instead.
If you've made a booking with us, please use the map provided with your booking confirmation to familiarise yourself with the alternative route. Diversion signs will direct you from the junction 10 turn-off. These will guide you to Gatwick airport and the Lowfield Heath roundabout for Airparks Gatwick. 
For more information, please contact Airparks Gatwick on 01293 842901.