Compare Birmingham Airport Parking
Book now from only

£74.00

for 8 days
---
You are here:
Birmingham Airport Parking
Birmingham Airport Parking
✓ Cancel Free ✓ Never Beaten on Price ✓ Save up to 75%
That's right...if you're after Birmingham Airport Parking up to 75% cheaper than you'd pay at the airport, you've come to the right place. With over 30 years of experience, Airparks are experts in all things airport parking, especially when it comes to helping you find the best Birmingham Airport car parks at the lowest possible price.
Whether you're looking for a budget-friendly Park & Ride or super convenient Meet & Greet, we guarantee to have an airport parking spot to suit your holiday needs. Do you have an early morning flight? Why not take a look at our money-saving airport parking with hotel deals.
Take a look at the great car parks we have available below or simply enter your details in the search above to check availability and get a price. With prices as low as £47.59 for a full week of parking, what are you waiting for?
★ Winter Special: Get 20% Off! ★
Brand new for 2023 - Airparks Express offers the fastest transfers of any car park at Birmingham Airport. Transfers to the terminal take just 3 minutes. And in true Airparks style, we promise to make your airport parking completely stress-free.
---
Location: Off-airport grounds for cheaper parking.
Transfers: Free transfers included, just 3 minutes to the airport.
Security: Staff on-site, perimeter fencing, barriers and floodlights.
Keys: Park your car and keep hold of your keys.
Check Availability
| | |
| --- | --- |
| 🚗 Airparks Deals: | 9 |
| 💸 Cheapest: | Airparks Drop & Go |
| 💙 Customer favourite: | Airparks Express |
| 📍 Closest: | Car Park 1 |
On-Airport Parking
Car Park
Rating
Transfer Time
Keep Keys
8 Day Price
Car Parks 2 and 3

8.6/10

reviews

Within walking distance
Yes
Please search for availability
Car Park 1

8.8/10

reviews

Within walking distance
Yes
Please search for availability
* Live airport parking prices are constantly changing according to supplier availability and pricing and, as such, may be different to the prices advertised here. We do our best to display the most relevant, up-to-date prices here using example dates and times (specified within the '(?)' ) which is always the cheapest 8 day period within the next 61 days.
Why should you book your Birmingham airport parking with Airparks?
We have over 30 years experience, leading the way since 1991
We offer the the very best prices on the market - saving you up to 70%
Exceptional customer service, including support from our award-winning Kent-based contact centre
We look after every customer with a fully secured, safe booking process
Birmingham Airport parking options
What do I need to know about car parking at Birmingham Airport?
It's always advisable to pre-book in advance to get the best airport parking deals and guarantee your space, avoiding the car park's gate rate charges of up to £13 a day.
Airparks offer a Never Beaten on Price Guarantee on all of our services, so you can rest assured that you're getting the lowest prices when booking your Birmingham Airport parking with us.
Birmingham Airport parking couldn't get any easier as there is only one terminal to fly from, so there is no need to worry about finding the car park closest to a specific terminal, all our parking facilities are within a 20 minute transfer. If you are searching for cheap Birmingham Airport parking, why not try our Airparks Drop and Go service, the cheapest Birmingham Airport car park, it even has a self-park option if you prefer to park your own car. Alternatively, upgrade your transfer game with Airparks Express - it's just a 3 minute shuttle ride away from the terminal. If it's convenience you're after, you could treat yourself to one of our Meet and Greet/Valet parking services such as Blue Circle Meet and Greet. With all of our services you can be certain that your car is safe, secured and in the hands of professionals.
If you want to free yourself from the worry about getting stuck in traffic on the morning of your flight, we recommend you take a look at our incredible value and handy Birmingham airport parking and hotel packages. With these you can take a leisurely drive to Birmingham Airport the day before your flight, stay in a comfortable hotel nearby and wake up refreshed and relaxed.
Off-site Parking at Birmingham Airport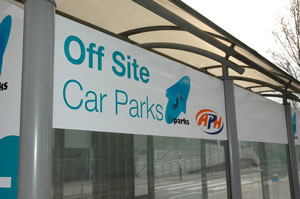 If you're looking for one of Birmingham Airport's cheap parking packages, the best option is often to book off-airport parking. Airparks Birmingham is located near to the airport grounds, so you are just a free, 14 minute, transfer away. There are a couple of services available to you: You can opt for Airparks ShortRun so you can choose your own parking space or there is the APH park and ride, where you pull up, hand over your keys and make your way to your transfer coach. With transfers every 25 minutes, off-airport parking at Birmingham is convenient, secured and generally the cheapest Birmingham Airport parking choice. If you're looking for our cheapest off-airport parking then book your car into the Airparks Drop and Go car park.
On-site Birmingham Airport Parking
Birmingham airport onsite parking is great for those who want to be parked as close to the terminal as they possibly can be. If you book Birmingham Airport Car Park 1 or Birmingham Airport Car Parks 2 and 3, operated by NCP, you are within walking distance of check-in - just 2 minutes if you park at Car Park 1, and 3 minutes from Car Parks 2 & 3. If you're looking for a Birmingham airport parking Long Stay option Car Park 5, formerly Birmingham Long Stay Car Park 1, would be ideal. With Car Park 5 you can enjoy convenience without the price tag; it's just a 5 minute transfer to check-in, great security features and affordable prices. Please note, however, we are unable to provide this car park at present.
Top Tip: For parking at Birmingham airport for arrivals (perfect if you're simply dropping off or picking up passengers), Car Park 5 would be ideal - you can park for 15 minutes for free. Alternatively you could use the Drop and Go car park which is located close to the terminal and therefore a little more pricey - 30 minutes parking will cost £17.
Meet and Greet Birmingham Airport Parking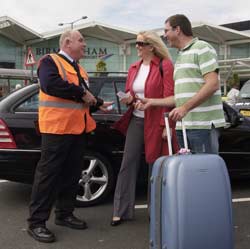 Meet and Greet/Valet airport car parking at Birmingham is the ultimate time-saver because it removes the hassle of trying to find a parking space or getting on transfer buses. A professional chauffeur will meet you at the terminal, help you unload your luggage and then park your car for you. Maple Manor Meet and Greet Parking is a well-established favourite with our customers and an ideal choice for anyone looking for a stress-free parking experience. Alternatively, you could always book Airparks Meet and Greet Valet for your Birmingham parking at the airport. With this package not only can you expect all the convenience that comes with a Meet and Greet service but also a fantastic car wash. On your return you'll be greeted outside the terminal with a freshly valeted car.
Birmingham Airport Car Parking Rates
Take a look at our handy table below to see just how much you could save by pre-booking your Birmingham airport parking.
Birmingham Airport Parking Charges

Birmingham Airport Parking

On-the-day price

Pre-booked with Airparks

Savings by pre-booking

Birmingham Airport Car Park 1

£268

£60.99

£207.01

Birmingham Airport Car Park 2 & 3

£268

£58.99

£209.01
Check Birmingham Airport Parking Availability
Cheap Birmingham Airport Parking
Save money by pre-booking your airport parking with Airparks Birmingham. Being prepared and booking your parking space can save you up to 60% off the on-gate prices and gives you peace of mind that you have a space reserved especially for you. For the best cheap parking at Birmingham airport and parking deals, we recommend you book as early as possible. The earlier you book, often the better prices are available! Top tip: keep an eye out for our 30 day advance super-saver parking rates. Turning up on the day will see you paying the premium prices with no guarantee of a space.
There is plenty that you can do to make sure you are getting the cheapest Birmingham Airport. If you choose to book with Airparks, we offer a best price guarantee, so our customers know they are getting the lowest rates for their parking, we also recommend booking early to get the best deals and secure yourself a parking space.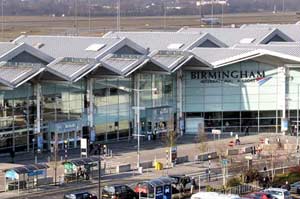 Off-Airport Birmingham car parks are the best choice for those on a tighter budget, as car parks a little further from the airport invariably work out cheaper. With Airparks Drop and Go Birmingham or Airparks Self Park you can be assured of the absolute cheapest Birmingham airport parking rates with only a 14 minute transfer to the terminal. With transfers running every 25 minutes, that extra time spent on a bus means extra cash in the pocket.
If you are certain that your plans are not going to change, the best deals for cheap parking at Birmingham Airport are often with the special non-refundable offers. The discounted rates are subject to no amendments or cancellations so are ideal for anyone with firmly fixed plans. Don't despair if you have left it too late to get the best deals, it is still worth looking at last minute parking at Birmingham Airport as it will still be cheaper than paying the on-gate charges.
Airparks Newsletter
It's worth signing up for our fortnightly email newsletter on our homepage, so you can get even more money off your parking using our promotional codes. All you need to do is enter your email on our homepage, and from time to time you'll receive a discount code for up to 20% off our already cheap Birmingham airport parking. There is also the chance to receive up to 15% off airport hotels for those looking to add an extra night to their journey.
Parking at Birmingham Airport - FAQs
What is the cheapest way to park in Birmingham Airport?
One of the easiest ways to enjoy cheap parking at Birmingham airport is to book in advance - you can save up to 75% off gate prices when you pre-book with Airparks. Another top tip for cheap parking is to consider an off-site package as they consistently offer lower rates compared to official on-site car parks as they're located slightly further away from the terminal. Using a Park and Ride service is another great way to save on your airport parking at Birmingham. Car parks such as Airparks Drop & Go, Airparks Express and Airparks Self Park offer fuss-free parking with a speedy shuttle service and budget-friendly prices.
Which car park is best for Birmingham Airport?
For cost-conscious travellers, be sure to keep an eye out for Airparks Drop & Go and APH Drop & Go, as they consistently provide the most affordable prices year-round.
If you're looking for on-airport parking with convenient access to the terminal, consider Car Park 1 and Car Parks 2 & 3. There's no transfers, no fuss. Both are located just a short walk to check-in.
If speed and convenience are a top priority, a Meet and Greet service like Blue Circle could be ideal. With Meet and Greet parking, a dedicated driver will handle the parking for you, ensuring a hassle-free experience. You'll be able to stroll to (and from) the terminal in no time.
How much does it cost to park a car at Birmingham Airport?
There are several factors that can influence our Birmingham airport car park prices - type of parking (on-site vs. off-site, for example), the time of year, and the advance booking period, to name just a few. When you pre-book with Airparks prices can start at just

£55.99

per week. Simply enter your holiday dates and hit 'search' we'll show you all the parking options available with live prices.
Where can I park for free at Birmingham Airport?
In the Birmingham Airport Drop Off car park, parking is FREE for up to 20 minutes. After the initial 20 minutes, standard tariff rates apply. Check out the charges below.
Birmingham Airport Drop Off Charges

Duration
Price*
0 - 20 minutes
FREE
20 - 25 minutes
£1.00
25 - 30 minutes
£3.00
30 - 35 minutes
£5.00
35 - 40 minutes
£10.00
40 - 45 minutes
£15.00
45 - 50 minutes
£20.00
Each extra 5 minutes thereafter
£5.00
Getting to Birmingham Airport Car Parks
Before setting off for your holiday, it helps to know how you are going to get to your car park at Birmingham airport. Whether you are travelling via road or rail, directions to your car park will be on your booking confirmation. Take a look at the Birmingham airport car park map below or enter your postcode to get directions specific to your address: Airparks Birmingham directions or directions for chauffeured parking.
Reviews for parking at Birmingham airport
Read what our customers have to say about airport parking at Birmingham when they booked with Airparks. For the full archive of reviews, visit our Birmingham airport parking reviews page.
Customer Reviews
ShortRun by Airparks

Good on arrival and collection from airport although very disappointed when I got back to my car to discover it looked like it had been parked next to a rally stage absolutely covered in dust, dirt dried on splash marks.

Mr Wilson

Mon 19th Sept 2022

(4 out of 10)

Airparks Self Park

Very happy with the service at Mackadown Lane this week

Mr Maiden

Fri 23rd Sept 2022

(10 out of 10)

Car Parks 2 and 3

Easy to book online, the whole experience was pretty straight forward.

Mr Garrington

Fri 23rd Sept 2022

(10 out of 10)

Car Parks 2 and 3

Absolutely brilliant - smooth arrival and departure from Birmingham Airport and 2 min walk from terminal. Highly recommend

Mrs Deeley

Sun 25th Sept 2022

(10 out of 10)

Airparks Self Park

Very poor this time - good start going on 17th helpful driver - coming back shocking - sat night / sun am waited almost an hour for a bus in the cold - 3 short run buses had appeared in this time but none for us - driver wasn't bothered didn't help anyone with their cases - really feel we should be compensated for this- also prices have doubled over last year or so£15 a day to park on waste ground which is not lit up - will not be using again unless I get money refund

Mr Awbery

Mon 26th Sept 2022

(2 out of 10)
Birmingham Airport Parking Advice
Preparation is key to a successfully stress-free journey, so we have compiled some helpful information and tips for you.
Before you book
When planning your trip away you need to consider what is going to be the best option for you and what will make it as smooth as it can be. For example, if you are travelling with children you may want to try and cut the cost and look into which parking service offers are the cheapest, like the Airparks off-airport Drop and Go. If you are travelling with oversized luggage like sports equipment you may want to look into booking the meet and greet service for parking in Birmingham Airport because some transfer buses do not accept larger sized luggage on board.
For assurance on our products you should take a look at our page: Why book with Airparks. You can always be certain of the lowest prices with Airparks best price guarantee.
Once you've chosen your Birmingham Airport car park
When you get to the airport your holiday has already begun so we want it to be as easy and enjoyable as possible. You can check out the exact step-by-step procedures before boarding so that you know exactly what to do upon your arrival. There is plenty of Birmingham airport shopping at the terminal for you to get your last minute holiday treats and essentials.
To make the most out of your holiday, take a look at our top tips page.
Add-ons
If you have an early flight or just want to start your holiday early, it's worth booking one of our Birmingham airport hotels as well as your parking at Birmingham Airport. You could even look at hotels with car parking as a single package to save even more time on your journey.
After a long journey to the airport, your car may end up not looking as fresh as usual. How about treating yourself to an Airparks car wash, so that on your return your car will be sparkling from the inside out.
We can also take care of all your resort transfer needs. Check out our airport transfer page for fantastic deals on shared and private transport worldwide.
FAQ
For any further information see our frequently asked questions page or contact us.
Birmingham Airport Hotels with Parking
If you are driving to the airport, an airport hotel with parking is a great way to travel.
From only £36.00 ( 1 night and 8 days parking )
Birmingham Airport Parking Reviews
Birmingham Airport Parking is rated, on average, 8.6/10 by 14303 Airparks customers.
Check out all our Birmingham Airport Parking Reviews.
Car Parks 2 and 3
Easy to book online, the whole experience was pretty straight forward.
Mr Garrington
Fri 23rd Sept 2022
(10 out of 10)
Car Parks 2 and 3
Absolutely brilliant - smooth arrival and departure from Birmingham Airport and 2 min walk from terminal. Highly recommend
Mrs Deeley
Sun 25th Sept 2022
(10 out of 10)
Airparks Self Park
Very poor this time - good start going on 17th helpful driver - coming back shocking - sat night / sun am waited almost an hour for a bus in the cold - 3 short run buses had appeared in this time but none for us - driver wasn't bothered didn't help anyone with their cases - really feel we should be compensated for this- also prices have doubled over last year or so£15 a day to park on waste ground which is not lit up - will not be using again unless I get money refund
Mr Awbery
Mon 26th Sept 2022
(2 out of 10)