Compare Glasgow International Airport Parking
Book now from only

£29.99

for 8 days
---
You are here:
Glasgow Airport Parking
Glasgow Airport Parking
Save up to 70% off the on-gate prices on your airport parking for Glasgow by pre-booking with Airparks.
Why pay costly on-gate prices, when you can pocket more of your hard-earned cash by booking with Airparks. When looking for Glasgow airport car parking there is plenty on offer to suit every parking need. Whether it's Meet and Greet, Park and Ride, Short Stay or Long Stay parking at Glasgow Airport you need; the best savings are made by pre-booking in advance, so you can spend less on your parking and more on your holiday.
Airparks offer a Never Beaten on Price Guarantee so you always know that you are getting the absolute lowest prices available with the highest quality.
Compare Airport Parking at Glasgow
Not sure which Glasgow Airport parking package is best for your journey? Have a read of our table below to see the different types of parking available, as well as our latest prices and savings:
* Live airport parking prices are constantly changing according to supplier availability and pricing and, as such, may be different to the prices advertised here. We do our best to display the most relevant, up-to-date prices here using example dates and times (specified within the '(?)' ) which is always the cheapest 8 day period within the next 61 days.
Glasgow Airport parking options
What do I need to know about car parking at Glasgow airport?
At Glasgow airport there are different services to suit your individual parking needs. If you are looking for cheap Glasgow airport parking then it would be worth looking at off-airport parking. However, if proximity is of most importance then on-airport parking would be perfect for you. We've included some information about these two types of parking below, to help you compare the advantages and find the right package to suit you.
We encourage you to take a look at our Glasgow airport hotels with parking as a single package. They are brilliant value as your Glasgow airport parking is heavily subsidized when you book it with an overnight stay, and it's a great idea for anyone with an early flight or looking to add an extra day's holiday to their trip.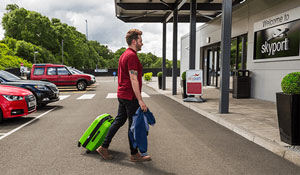 Off-airport parking Glasgow
When looking for car parking at Glasgow airport, more often than not, off-site parking is the cheapest option. There are a handful of park and ride options nearby, offering excellent transfer services to the airport, ideal for anyone who wants to keep those Glasgow airport parking charges down by choosing a car park just outside the airport grounds. Transfer times are very good from all car parks, taking between 3 and 8 minutes.
The Off Airport car parks we offer include:
If you're looking for Glasgow airport car parking in Linwood, located under 3 miles from the airport, you have 3 great car parks to choose from: Skyport (formerly Airparks), Speedpark and Parksafe.
On-airport parking at Glasgow Airport
If you would prefer to be parked within the airport grounds, look no further than Glasgow airport parking by NCP. All Glasgow airport onsite parking is operated by NCP including the Official Long and Short Stay car parks. Both car parks are safe, secured and conveniently located as close to the airport as you could be.
Glasgow airport parking Long Stay
The Official Glasgow Airport Long Stay parking is perfect for anyone who doesn't want to wait around too long; with only a 2-5 minute transfer, you will be checking-in in no time.
Glasgow airport parking Short Stay
For the closest car park to Glasgow Airport's terminal, the Official Glasgow Short Stay is just 2 minutes walk away. If you want an even more hassle free start to your holiday choose Short Stay with Fast Track parking - not only are you just moments away from the terminal you'll also be able to skip the queues at security by using the VIP Fast Track lane.
Glasgow Airport pickup parking
There is a designated Glasgow airport pick up area, located just 1 minutes walk away from the terminal on the ground floor of Car Park 2 - ideal for anyone who is on pick up duty and doesn't need to be parked for long. Please note, you can't pre-book this car park in advance, instead you'll need to pay machine onsite.
Glasgow airport pickup parking charges:
£2 for 10 minutes
£3 for 20 minutes
Ready to reserve your spot for Glasgow Airport? Click on the button below then enter your dates in the search bar to see our latest deals and availability for your journey:
Book Glasgow Parking Now
Money Saving
When it comes to saving money on your airport parking, there are ample things you can do to ensure you are getting the best deals. Simply by booking with Airparks, you know that you are getting the cheapest Glasgow airport parking prices and the highest quality, with our best price guarantee. We also give you as much information as possible about the type of car parking we offer, to help you compare packages and ensure the parking you book is the right one for you.
For cheap airport parking at Glasgow International, choosing an off-airport package is undoubtedly the cheapest. Skyport (formerly Airparks) is a firm favourite with customers and it's easy to see why; 5 minute transfers to the terminal, top notch security and easy on the purse strings.
More money can be saved the earlier you book, because the best deals are when you book in advance. You can save up to 70% off the on-gate prices, by pre-booking with Airparks. Pre-booking your airport parking at Glasgow International gives you the peace of mind that you have a space waiting for you and you won't be paying the premium on-gate charges. Don't worry if you have left it too late to get the cheapest offers, you should still look at our last minute parking deals, because it will still be much more cost-effective than just turning up.
Airparks Newsletter
Looking for a Glasgow airport parking promo code? If you sign up to our fortnightly email newsletter, you could save up to 20% off a variety of Airparks products. All you have to do is enter your email address on our homepage to start receiving discount codes. If you have an early flight or are returning too late to travel, you can also receive up to 15% off Glasgow Airport hotels.
Getting to Glasgow car parks
Before setting off to Glasgow Airport, you need to know how to get there. Whether you are traveling by road or rail, there will be directions on your booking confirmation. You can also take a look at our handy Glasgow airport parking map below or enter your postcode to get direction specific to your address.
Directions to each Glasgow airport car park
For the full archive of customer comments about parking at Glasgow airport, read our reviews archive page.
Customer Reviews
Skyport

Efficient and friendly service from the receptionist and the driver. Quick transfers to and from the airport.

Mrs Files

Wed 4th Nov 2020

(10 out of 10)

Long Stay

The car park was most convenient to where I needed to be, easy to find and the ticket worked first time on exit.

Mrs Leonce

Mon 16th Nov 2020

(10 out of 10)

Long Stay

Staff were helpful and friendly, good location for easy access to hotel and airport.

Mr Green

Mon 16th Nov 2020

(10 out of 10)

Long Stay

Arrived to Glasgow to a flat battery a man assisted with a battery pack within Half an hour car started straight away-very happy

Mr Crawford

Tue 24th Nov 2020

(10 out of 10)

Long Stay

Easy to use

Miss Getchell

Sat 28th Nov 2020

(10 out of 10)
Helpful Advice
For a stress-free holiday, preparation is absolutely vital. We have organized some information so you can be as prepared as possible.
Before you book your Glasgow parking at the Airport
Before booking your Glasgow airport parking you need to find out what parking service is going to be the best for you. For instance, if you are traveling with children, then it may be better to park close to the terminal, to avoid your children getting bored on a transfer bus. If you have oversized luggage like sports equipment, then the meet and greet service would be ideal, as some transfer buses do not allow for larger-sized luggage. This service is also great for disabled passengers as there are no transfers involved.
For more assurance on all of our products, you should take a look at our page: why book with Airparks? You can always be certain of the absolute lowest prices and highest quality from your Glasgow Airport car park with our best price guarantee.
Once you've chosen your Glasgow Airport parking
We want your holiday to be as easy as possible, so it is worth looking at the step-by-step procedures before boarding, so you will know exactly what to do when you arrive for your Glasgow parking at the airport. Once you're at the terminal and have checked-in, there is plenty of Glasgow Airport shopping, so you can get your last-minute holiday treats.
To make the most out of your holiday check out our top tips page.
Add-ons
If you have an early flight or just want to add an extra day to your holiday, then you should have a look our excellent-value Glasgow Airport hotels. You could even book your Glasgow airport parking and hotel as a single package to save even more money.
Frequently asked questions
If you need any more information, look at our frequently asked questions page, or contact us through our friendly UK based contact centre.
Glasgow International Airport Hotels with Parking
If you are driving to the airport, an airport hotel with parking is a great way to travel.
From only £33.00 ( 1 night and 8 days parking )
Glasgow International Airport Parking Reviews
Glasgow International Airport Parking is rated, on average, 8.8/10 by 7748 Airparks customers.
Check out all our Glasgow International Airport Parking Reviews.
Long Stay
Staff were helpful and friendly, good location for easy access to hotel and airport.
Mr Green
Mon 16th Nov 2020
(10 out of 10)
Long Stay
Arrived to Glasgow to a flat battery a man assisted with a battery pack within Half an hour car started straight away-very happy
Mr Crawford
Tue 24th Nov 2020
(10 out of 10)
Long Stay
Easy to use
Miss Getchell
Sat 28th Nov 2020
(10 out of 10)