Compare Aberdeen Airport Parking
Book now from only

£59.99

for 8 days
---
You are here:
Aberdeen Airport Parking
Aberdeen Airport Parking
Why pay over the top for airport parking? Save up to 70% on your Aberdeen Airport Parking deal by pre-booking with Airparks
There's no need to, especially if you book parking at Aberdeen Airport with Airparks. Aberdeen airport serves over 2.7 million passengers a year to around 35 destinations. With increasing passenger numbers and a limited amount of Aberdeen airport car parking, it makes sense not only to reserve your space in advance, but also to pre-book Aberdeen parking to save money on the gate prices.

Off-Airport Parking
Car Park
Rating
Transfer Time
Keep Keys
8 Day Price
Airpark

9.4/10

reviews

10 mins
No
Please search for availability
* Live airport parking prices are constantly changing according to supplier availability and pricing and, as such, may be different to the prices advertised here. We do our best to display the most relevant, up-to-date prices here using example dates and times (specified within the '(?)' ) which is always the cheapest 8 day period within the next 61 days.
Aberdeen parking options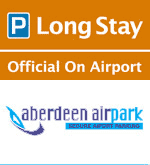 Booking online with Airparks today is the best way to save yourself a considerable amount of money on Aberdeen airport parking. You may ask how, but turning up on the day could see you paying as much as £7 per day. If you book with us, you could pay as little as £4.94 per day. Not only can Airparks offer these low prices, but we also guarantee them with our Best Price Guarantee policy.
Take your pick of off-airport and on-airport parking at Aberdeen airport. For the lowest prices, we'd recommend Aberdeen Airpark off-site car park. If you're looking for a time-saving and convenient car park at Aberdeen, check out the Long Stay Aberdeen on-airport car park.
On top of the cheapest prices at Aberdeen Airport, guaranteed, Airparks also provides the ultimate protection for your vehicle while you are away. We have invested heavily in top-notch security features at our airport parking facilities, meaning you can travel assured your car will be safe and well-looked after for the duration of your stay. Reassuringly effective crime-prevention measures in place at Airparks' Aberdeen Airport car parks include:
CCTV
Regular security patrols
Well-lit parking areas
Automatic Number Plate Recognition
High perimeter security fencing
Security exit and entrance barriers.
So for airport parking that's both affordable and comfortingly secure, book an Airparks' car park at Aberdeen Airport.
For the lowest prices on Aberdeen airport car parking, look no further than Airparks.
Below is a sample of reviews. For our full Aberdeen archive, take a look at our Aberdeen airport parking reviews page.
Customer Reviews
Short Stay

We have used this car parking every time we fly and it suits us perfectly. As we stay well away it works out so much better than relying on a taxi. The convenience of just a 2 minute walk to your own vehicle once you're heading home is lovely. We have had no problems with entry, nor exit.

Mr Simpson

Mon 2nd Sept 2019

(10 out of 10)

Short Stay

Coming back to Aberdeen Airport and simply walking to get my car.

Mr Cameron

Mon 23rd Sept 2019

(2 out of 10)

Short Stay

Location and ease.

Ms Bisset

Wed 23rd Oct 2019

(10 out of 10)

Short Stay

Location and ease.

Ms Bisset

Wed 23rd Oct 2019

(10 out of 10)

Priority Parking

Great value for the closest car park

Mrs Simmons

Fri 16th Jul 2021

(10 out of 10)
Other Aberdeen airport parking pages Articles
Cheap Aberdeen Airport Parking
Cheap Aberdeen Airport Parking - When flying from Aberdeen Airport this year, why pay the high gate prices at the car parks on the day? Just pre-book your car park space with Airparks and enjoy savings of up to 60%!
Save Money Parking At Aberdeen Airport
Airparks are committed to providing the highest quality airport parking around at an affordable price, so we're happy to let you in on a few handy tips of how to make your Aberdeen airport parking cheaper.
Attractions Near to Aberdeen Airport
Aberdeen Airport is located 5 miles from the city itself, and offers a convenient departure point for those in the north east of Scotland.
Aberdeen Airport Hotels with Parking
If you are driving to the airport, an airport hotel with parking is a great way to travel.
From only £35.00 ( 1 night and 8 days parking )
Aberdeen Airport Parking Reviews
Aberdeen Airport Parking is rated, on average, 9.2/10 by 3795 Airparks customers.
Check out all our Aberdeen Airport Parking Reviews.
Short Stay
Location and ease.
Ms Bisset
Wed 23rd Oct 2019
(10 out of 10)
Short Stay
Location and ease.
Ms Bisset
Wed 23rd Oct 2019
(10 out of 10)
Priority Parking
Great value for the closest car park
Mrs Simmons
Fri 16th Jul 2021
(10 out of 10)