Airport Lounges
Get the best offers on discounted Airport Lounge packages with Airparks and get the VIP experience you deserve for the beginning of your holiday!
Going through the airport can be stressful, especially with the hustle and bustle of the departure lounge. Why get your holiday off to a hectic start, when you can book a Lounge Pass and relax in a calm oasis? Unwind in a comfortable chair, enjoy free WiFi and tuck into some tasty food and refreshing drinks while you wait for your flight.
Read on to find out about our Airport Lounges or simply enter your travel date and airport above to see live pricing, availability and our best prices on Airport Lounges.
Why book an Airport Lounge?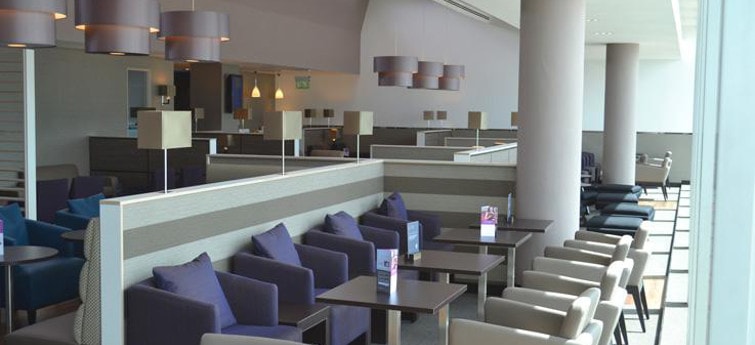 The Aspire by Servisair Lounge at Manchester Terminal 1
Booking an Airport Lounge with Airparks is an excellent way to make your holiday that bit more special and receive first class treatment. You can enjoy a range of entertainment and refreshments feel like you've started your holiday early. Lounges at the airport are a great way to prepare for your flight and mean that you can relax in peace away the crowds in the departure lounge.
Whether you're flying for business or pleasure, an Airport Lounge is an inexpensive way to be treated like a VIP. Take a look at our great value Airport Lounge packages; we even offer a Never Beaten on Price Guarantee on our Airport Lounges, to ensure we offer you the lowest price available on the market. Our Never Beaten on Price Guarantee also extends to all our airport parking facilities, so we can guarantee you cheap parking at the airport as well. When you get to your destiantion, why not take advantage of our great value airport transfers? With a fantastic range of shared and private transfers to worldwide resorts, there's sure to be an option to suit you.
Booking an Airport Lounge will provide you with a relaxing pre-flight experience, allowing you an enjoyable airport experience; see what other Airparks customers think about our Airport Lounges here.
Lounge facilities
Most Airport Lounges come with the following facilities:
Free tea, coffee, soft drinks and alcoholic beverages.
Free snacks
Newspapers and Magazines are available for you to read.
Entertainment facilities including TVs and free WiFi.
Travelling the world?
Don't worry, our Airport Lounges are available at more than just the UK Airports! With Airparks you can book Airport Lounges Worldwide and make sure you have a calm place to relax wherever you are flying from.
FAQs
Got some questions about Airport Lounges? Below we've gathered the most frequently asked questions and the answers to them; if there's something else you're not sure about you can always call our friendly travel experts who will be happy to help.
What credit card gives you access to Airport Lounges?
None of our lounges require a specific credit card for entry, all you need to do is book your lounge pass with us and enjoy the VIP treatment!
Is food free in Airport Lounges?
Generally speaking, yes. There may be a few premium drinks or specific meals where you have to pay extra but they won't be the only choices available; the lounges have plenty of snacks, light bites and drinks to keep you fuelled up for your holiday.
How much does it cost to go to an Airport Lounge?
The cost of a Lounge Pass depends on the lounge you are booking; you can enter your requirements at the top of the page to check live pricing and availability for all of the lounges available at the airport you're flying from.
Top Tip: The earlier you book the better deals you are likely to get!
Can you buy access to Airport Lounges?
You certainly can! Enter your holiday dates above and we'll give you live prices and availability for all the lounges at your chosen airport.