Compare Stansted Airport Parking
Book now from only

£49.99

for 8 days
(?)
From Prices Explained
This is an example price which refers to our cheapest airport parking product available at Stansted Airport within the next 61 days, when searched at 12am on 26/01/2020
The quoted price today was for Long Stay parking from 27/03/2020 to 03/04/2020 and is the total cost for 8 days (the typical parking requirement for a 1 week trip).
Please note: live prices are fluid and constantly changing according to availability and supplier pricing and, as such, may be different to the advertised price. It is intended as a guide price only, demonstrating the most accurate, cheapest price we anticipate being available today.
---
You are here:
Stansted Parking
Stansted Airport Parking
Pocket more cash with considerable savings vs the at-the-gate prices by pre-booking with Airparks.
When looking for Stansted Airport car parking, there are a few options available to you, and there is something to suit every need. We advise that you book as early as possible because turning up on the day will see you paying the premium rates. You can be certain of the absolute lowest prices on your airport parking at Stansted and the highest quality with Airparks' Best Price Guarantee.
Compare cheap Stansted Airport parking offers
Whether it's Meet and Greet convenience or practical park and ride packages, you can enjoy great savings on your airport parking at Stansted when you book in advance with Airparks. Take a look at our table below to see the options we have available for Stansted cheap parking before entering your dates at the top of the page to make your booking.
* Live airport parking prices are constantly changing according to supplier availability and pricing and, as such, may be different to the prices advertised here. We do our best to display the most relevant, up-to-date prices here using example dates and times (specified within the '(?)' ) which is always the cheapest 8 day period within the next 61 days.
Why pre-book car parking at Stansted Airport?
To be sure you get cheap car parking at London Stansted, pre-booking is a must. Take a look at the table below to see how much you could save by booking your Stansted car parking ahead of time with Airparks:
Official London Stansted Parking Deals from £54.99 for 8 days

Car Park

On-the-day price

Pre-booked with Airparks

Savings by pre-booking

Stansted Long Stay Car Park

£172.00

£54.99

£117.01

Stansted Short Stay Car Park

£368.00

£64.99

£303.01

Stansted Mid Stay Car Park

£192.00

£59.99

£132.01
Please note: the prices quoted are for 8 days Stansted Airport parking and are accurate at the time of writing.
Ready to make the most of our great Stansted parking pre-booking deals? Hit the button below to return to the top of the page, then enter your dates and search to see our latest savings and availability.
Book Your Stansted Parking
Frequently Asked Questions
What is the cheapest parking at Stansted?
The cheapest parking at Stansted can depend on availability but we tend to find that the Long Stay car park at Stansted Airport is often the best choice if you're keeping an eye on your budget.
How long is short stay parking?
The term 'short stay' refers to the distance between the car park and the airport rather than how long you can park there for; you'll be able to park for the same durations as the other car parks, it's just closer to the airport.
Is there any free parking at Stansted Airport?
You can get up to 1 hour of free parking at the Mid Stay car park if you're intending to pick up or drop off, there is a free shuttle that runs from here to the airport every 10 minutes that takes about 5 minutes.
What is the best parking at Stansted?
The best parking at Stansted depends on what will be most suitable for your needs. If you have a lot of luggage or some of your party have mobility issues then a meet and greet service could be your best bet. If you're keeping to a budget one of the park and ride services a little further from the airport may be the car park for you.
Can you park a van at Stansted Airport?
This depends on the restrictions put in place by each car park, when booking you'll be able to see more information on the car park to see if it has any rules regarding vans. A general rule of thumb is that if the vehicle fits in a standard parking bay it should be fine, but some car parks do have height restrictions
Stansted parking options
What do I need to know about car parking at Stansted airport?
There is only one terminal at Stansted, which makes getting there and parking extremely easy. There are several options available to you, each with different advantages at different prices, so we have provided some information below to help you compare packages and find the right airport parking for you. For example, if you are looking to park close to the airport, then an On-Airport car park is ideal. If you are wanting to make sure your Stansted Airport parking is cheap, Off-Airport parking offers bargain prices to suit your budget - all for a slightly longer transfer time. If you want someone to take care of your parking for you, then Meet and Greet Parking is the best choice for you.
It is worth looking at our brilliant-value Stansted Airport hotels and parking as a single package to save money. Perfect for anyone who has an early flight to catch or would like to add an extra day to their holiday.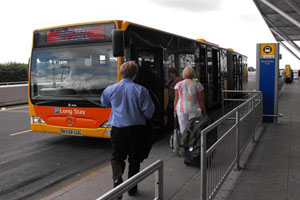 Off-Airport parking
JetParks is our off-airport car park at Stansted, and it's perfect for anyone who is looking to save a little extra cash at the expense of a little extra time on a transfer bus. Booking the non-amendable, non-refundable deal will discount the price even further; it's perfect for those with solid plans who are looking to ensure their parking in Stansted is cheap.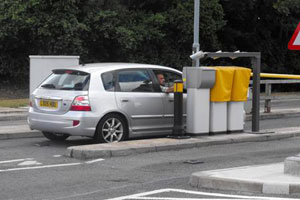 On-Airport parking
Choose on-airport car parks for parking in the Stansted airport grounds, giving you assurance that you will go from parking to checking-in in no time. The closest of the on-airport car parks at Stansted is the Short Stay which is within walking distance, whilst the Mid Stay and Long Stay are both just a little further away by shuttle. Although parking in this type of car park tends to be slightly more expensive than Jetparks, you will save a lot more time on your transfer and you can always save even more money by booking the non-amendable, non-refundable offer.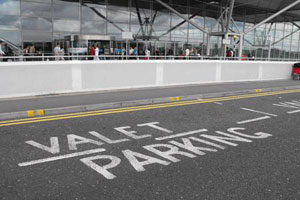 Meet and greet/valet car parking
You can give the burden of car parking at Stansted Airport to someone else by booking the airport's own Meet and Greet. All you need to do is drive straight to the terminal, where you will be met by a uniformed chauffeur. They will help you unload your luggage and park your car for you, leaving you to go straight ahead to check-in. This service is ideal for people who have a lot of luggage, disabled passengers or those simply wishing to save more time and hassle.
Booking cheap parking at Stansted Airport
There are numerous ways to be confident you're getting cheap Stansted airport parking. By booking with Airparks you can save a significant sum off the gate rate prices. You can always be certain when booking with Airparks, that you are always getting the lowest prices and the highest quality of cheap airport parking at Stansted with our best price guarantee.
Of all our parking packages, the JetParks car park is our cheapest parking at Stansted. In addition, you can also book the a non-amendable, non-refundable deal, which is excellent for those who have firmly fixed plans. These special advanced rates are subject to no amendments or cancellations, but are a great money-saver.
By pre-booking your parking you are guaranteed that there will be a space reserved especially for you, and by booking in advance you will find the best, bargain deals to get your Stansted parking cheap. If you pay at the gate without booking you will find yourself paying the premium prices with absolutely no promise that there will be a space available to you. If you have left it a little too late to get the cheapest Stansted parking offers, don't panic, it is always best to have a look at our last minute car parking offers, because it will still be much more cost-effective than the on-gate price.
Airparks Newsletter
Our fortnightly email newsletter can save you a further 10% off a variety of parking products including our already cheap Stansted parking. You can sign up on our homepage by simply entering your email address, and you'll receive emails now and again with a discount code. For anyone looking to add an extra day to their holiday you could also receive 10% off Stansted airport hotels.
Getting to your Stansted Parking
When heading to Stansted, you need to know how you are getting there. Although the directions to your car park at Stansted Airport will be on your booking confirmation, for travel by road or rail; take a look at the map below or enter your postcode to get directions that are specific to your address.
Directions to each Stansted Airport car park
Take a look at our customers' honest reviews below to help you choose your Stansted Airport car park:
Customer Reviews
Meet and Greet Saver

It all went very smoothly. Staff were efficient and friendly.

Ms O'sullivan

Mon 18th Feb 2019

(5 out of 5)

Meet and Greet Saver

Easy system, friendly quick staff.

Mr Orrin

Thu 21st Feb 2019

(5 out of 5)

Meet and Greet Saver

Really easy to use, good service

Mr Currill

Tue 26th Feb 2019

(5 out of 5)

Meet and Greet Saver

simple, quick and very convenient

Mr Brown

Mon 25th Feb 2019

(5 out of 5)

Meet and Greet Saver

The ease of the whole operation

Mr Mclaughlin

Tue 26th Feb 2019

(5 out of 5)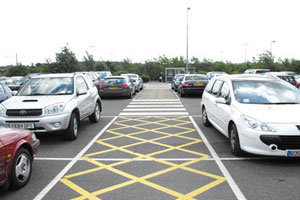 Helpful Advice
For a successfully stress-free holiday, preparation is key. We have compiled some useful information that will help your holiday run as smooth as it can be.
Before you book
You should work out what option for airport parking at Stansted is going to be the best for you. For example, if you are traveling with children, then you may want to park close to the airport in the Mid-Stay car park to avoid long transfers. If you have oversized luggage, like sports equipment, then it is worth booking the Meet and Greet service, as some transfer buses do not accept larger-luggage on board.
For further assurance on all of our products, you should check out our page: why book with Airparks? You can always be certain that you are getting the lowest prices available with Airparks' best price guarantee.
Once you've chosen your Stansted parking
To make your holiday as easy as possible you can check out the step-by-step procedures before boarding, so you will know exactly what to do when you arrive at the airport. There is plenty of shopping at Stansted airport so it's the perfect time to go and grab yourself some pre-holiday treats.
To make the most of your holiday, take a look at our top tips page.
Add-ons
If you have an early flight or just want to add an extra day to your holiday, you should look at our brilliant-value Stansted airport hotels. You could even book your hotel with parking as a single package to save even more time and money.
We also have a fantastic range of airport transfers, with great value shared shuttles and private taxis in resorts across the world.
Frequently asked questions
For any further information, please see our frequently asked questions page, or visit our contact us page.
Stansted Airport Hotels with Parking
If you are driving to the airport, an airport hotel with parking is a great way to travel.
From only £49.00 ( 1 night and 8 days parking )
Stansted Airport Parking

Reviews

Stansted Airport Parking is rated, on average, 4.3 out of 5 by 14,104 Airparks customers

Meet and Greet Saver
Really easy to use, good service
Mr Currill
Tue 26th Feb 2019
(5 out of 5)
Meet and Greet Saver
simple, quick and very convenient
Mr Brown
Mon 25th Feb 2019
(5 out of 5)
Meet and Greet Saver
The ease of the whole operation
Mr Mclaughlin
Tue 26th Feb 2019
(5 out of 5)