Compare Luton Airport Parking
Book now from only

£49.99

for 8 days
---
You are here:
Luton Airport Parking
Luton Airport Parking
The best online prices, Airparks save you up to 75% vs on-the-day prices.
There is plenty on offer when it comes to Luton airport parking and we have something to suit every budget. Compare our own Airparks parking vs independent Park & Rides and the best Meet and Greet options to find the right parking at the right price and get your holiday off to a great start.
Luton Airport Parking Deals
Booking with Airparks in advance is where you will find the biggest savings on your car parking at Luton Airport, whereas just turning up at the gate can see you paying prices up to £15 per day.
★ Airparks Self-Park - Cheap Luton Airport Parking ★
Airparks Self-Park is our cheapest Luton Airport car park. It runs regular and efficient transfers to the airport and is currently operating a self-park procedure for the safety of staff and customers alike.
Enjoy cheap Luton Airport Parking with Airparks and not only can you save on your holiday parking, but we also offer free cancellation* in case anything changes.
*Terms and conditions apply
Book Airparks
Parking at Luton Airport
Airparks is proud to offer a Never Beaten on Price Guarantee so that you know that you will always be getting the absolute best value and the highest quality when it comes to parking at luton airport.
We also offer independent car parks which can save you even more on your Luton Airport Parking! You can see a full price comparison for all our parking services in the table below.
* Live airport parking prices are constantly changing according to supplier availability and pricing and, as such, may be different to the prices advertised here. We do our best to display the most relevant, up-to-date prices here using example dates and times (specified within the '(?)' ) which is always the cheapest 8 day period within the next 61 days.
London Luton Airport Parking
What do I need to know about Luton Airport car parking?
Parking in Luton airport is wonderfully straightforward; there is only one terminal to fly from which makes picking your car parking much easier. There are, however, a variety of Luton airport parking services available to cater to your individual needs.
Are you looking to save time? Or maybe you have larger-sized luggage?
Our Meet and Greet services could be ideal; a professional driver will meet you at the terminal leaving you just a short stroll to departures - easy with even the most awkward luggage. Meet and Greet services can also be extremely helpful to large families, or passengers with mobility issues as you won't need to worry about navigating busy transfer buses.
Do you want to park near Luton Airport Terminal?
We have several car parks that are close to Luton Airport, some just a 5 minute transfer away! With most of these car parks you can keep your keys and enjoy a free transfer shuttle to the terminal.
Working to a budget or just looking to save some money?
If it's budget Luton airport parking you're after, an off-site option could be the best choice to save cash. Even though our off-site car parks are a little further out they all offer free transfer buses that will get you to the airport in 5 - 15 minutes leaving you with a little extra spending cash for those last minute souveniers.
We also recommend that you take a look at our brilliant value Luton Airport hotels with parking as a single package to save yourself some time and money. Luton airport parking and hotel packages are ideal for anyone looking to add an extra day to their holiday or if you have an early flight.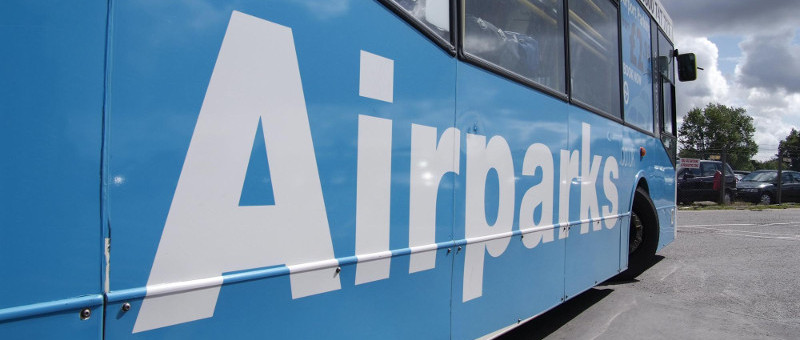 Off-airport parking Luton
Quite often off-site Luton airport parking is the cheapest option and with absolutely no compromise on quality. Airparks Luton Park and Ride is perfect for those who don't mind a 13 minute transfer in exchange for the lowest prices. To save even more cash there is a non-amendable, non-refundable rate - an excellent idea for anyone who has firmly fixed plans as they cannot be amended or cancelled.
Another cheap Luton airport parking option to consider is Airparks ShortRun, which offers brilliant value for money and is only a 5 minute transfer to the terminal. In addition, Airparks ShortRun is ideal for any customers who need a bigger space for their car as they offer a 'larger vehicles' package.
Luton airport parking Meet and Greet
Take away the hassle of trying to find a parking space and let somebody else do all the hard work for you. With all of our Luton Meet and Greet parking you will be met in the Short Stay car park, which is within walking distance of the terminal, by a professional chauffeur. They will help you unload your luggage and then take your car and park it in their fully secured car park. On your return you will be met at the terminal with your car, so you can head straight home with minimal fuss.
For your Meet and Greet Luton airport parking you can choose from a range of services including Swift Park Meet and Greet, Blue Circle Meet and Greet and several others. Check out the table above to see all the options or enter your dates at the top of the page and click 'Find Parking' to see our full range with current pricing.
Frequently Asked Questions
Is there free parking at Luton Airport?
There is free parking in the long stay car park for 1 hour and the mid stay car park for 15 minutes. The drop off/pick up zone is £4 for the first 10 minutes and then £1 per minute after that.
Can I just turn up and park at Luton Airport?
Yes, you can just drive to Luton Airport and pay on the day to park, however you can save a significant amount of money if you do pre-book your Luton Airport Parking. You also run the risk of the car parks being full if you just arrive on the day without pre-booking your parking space.
Where is the pick up point at Luton Airport?
You can pick up for free for 15 minutes in the mid stay car park at Luton Airport. This car park is just 600m or a 5 minute free bus ride from the terminal. There is a closer pick up/drop off zone but this charges £4 for the first 10 minutes and then £1 for each minute after that.
How much is long term parking at Luton?
The cost of long term parking at Luton depends on the duration of your stay and the time of year, for current pricing just enter your holiday dates and hit 'find parking' at the top of the page.
What is the postcode for Luton Airport?
The postcode for Luton Airport is LU2 9LY and the airport is on Airport Way.
B&Bs at Luton Airport
Get the most out of your travels with a stay in a Luton Airport B&B. Have a peaceful night's sleep, without the worry that you're going to miss your flight! View our handpicked recommendations!

Money Saving
When it comes to saving money, there is plenty you can do to ensure that you are getting cheap Luton airport parking. By booking with Airparks you can be certain that you are getting the the lowest prices available with our best price guarantee.
Off-airport parking
Off-airport car parking is undoubtably the cheapest option; even though these car parks are not on airport grounds you'll still get a free, speedy transfer to the airport terminal. Airparks Luton deliver absolute bargain prices and it's just a 14 minute transfer from the car park to the airport.
You also have the option of Airparks ShortRun, which offers an incredible and super speedy 5 minute transfer to the airport; one of the shortest transfers you can get without parking at the check-in desk!
Pre-booking
Pre-book your London Luton parking and not only can you save up to 75% off the gate-rate charge without the need for a Luton airport parking discount code, but you'll also get peace of mind that you have a space waiting for you without paying premium rates.
The earlier you book, the more money you can save so look out for our 30 day advanced early bird rates for budget prices on your airport parking Luton. When you enter your travel dates at the to of the page we'll show you all the available parking including any special parking deals or offers so you won't need to go hunting for them.
Non-amendable, non-refundable
If you are certain that your plans are not going to change, then you should check out our non-amendable, non-refundable deals. These Luton airport parking discount prices are non-refundable and cannot be amended, perfect for those with firmly fixed plans. Not to worry if you've left it too late to get the cheapest offers, it is still worth looking at our last minute parking deals, as it will still be much cheaper than the on-gate price.
Airparks Newsletter
By signing up to our fortnightly email newsletter on our homepage you can save yourself even more money. Receive discount codes which will knock up to 20% off the lowest prices - just enter your email address on the homepage. If you are looking to add an extra day to your hotel you can also get up to 15% off Luton airport hotels.
What our customers have to say about parking at Luton Airport when they booked with Airparks:
Customer Reviews
Airparks Self Park

The pleasant and helpful staff.

Mrs Smith

Sat 12th Sept 2020

(10 out of 10)

Airparks Self Park

Very good park and good staff.

Mr/S Rosa

Sat 12th Sept 2020

(10 out of 10)

Airparks Self Park

easy , well done, well set out

Mr Dewis

Sat 12th Sept 2020

(10 out of 10)

Airparks Self Park

The conveinience

Mrs Walford

Sun 13th Sept 2020

(8 out of 10)
For more reviews, visit our complete archive of Luton airport parking reviews.
Helpful Advice
There are plenty of things that you can do to ensure your journey to and from Luton Airport is as stress-free as it can be. We have compiled some information for you to help you be as prepared as possible.
Before you book
It's a good idea to work out what type of Luton airport parking option is going to make your journey as easy as possible. For example, if you are traveling with oversized luggage like sports equipment, it's worth looking at a Meet and Greet service at Luton airport such as Swift Meet and Greet, as some transfer buses do not allow for larger luggage on board.
New to booking with Airparks? Take a quick look at our top reasons to book with Airparks. You can be certain when you book with us that you will always be getting the best value and the lowest prices with our best price guarantee.
Once you've chosen your parking
At the airport, we want your experience to be as simple as possible, after all it is the start of your holiday. You can take a look at the step-by-step procedures before boarding, so you know exactly what to do when you arrive. At Luton there is plenty of airport shopping to get yourself your last minute holiday treats.
Make the most of your holiday by taking a look at our top tips page.
Add-ons
If you have an early flight or are looking to add an extra day onto the beginning/end of your holiday, it is worth looking at our brilliant value Luton Airport hotels. You could even save yourself money by booking a Luton airport parking and hotel package; airport parking is quite often discounted when you book it with a hotel room.
Oncce you reach your destination, you're going to need to get from the airport to your resort. Luckily, we take care of that too! Check out our airport transfers page for great deals on shuttles, taxis and private transfers to hotels, villas and resorts all over the world.
Frequently asked questions
For any further questions, please see our frequently asked questions page, or contact us
Luton Airport Hotels with Parking
If you are driving to the airport, an airport hotel with parking is a great way to travel.
From only £29.00 ( 1 night and 8 days parking )
Luton Airport Parking Reviews
Luton Airport Parking is rated, on average, 8.6/10 by 26856 Airparks customers.
Check out all our Luton Airport Parking Reviews.
Airparks Self Park
Very good park and good staff.
Mr/S Rosa
Sat 12th Sept 2020
(10 out of 10)
Airparks Self Park
easy , well done, well set out
Mr Dewis
Sat 12th Sept 2020
(10 out of 10)
Airparks Self Park
The conveinience
Mrs Walford
Sun 13th Sept 2020
(8 out of 10)