Compare Airport Parking
Book now from only

£23.92

for 8 days
---
You are here:
Airport Parking
Airport Parking
Book your airport parking at over 20 UK airports from just
£2.99 a day
We know that when it comes to airport parking, most of us just want a trustworthy, efficient and good-value car park near the airport to park our car in whilst we are away. It is our mission to provide exactly that.
Our team at Airparks are experts in delivering professional, cheap airport parking, whether this be through one of our own Airparks car parks, or the best deals on official car parking at the airport. When you book in advance, either online or over the phone, you can even save up to 70% off your airport parking!
The difference with Airparks
✔ Secured car parks
One of the most important things when you're parking your car at the airport is to make sure it's safe and well looked after. This is our number one priority here at Airparks and each one of our car parks, both our own Airparks car parks and our deals on official airport parking, will do just that. With tight security measures in place at every car park, your car is under watchful eye round the clock. Sleep soundly knowing your car is secured and protected by flood-lit parking bays, high-security fencing, 24-hour security patrols and CCTV.
✔ Best Price Guarantee
Making a booking with Airparks really makes sense, and with our Best Price Guarantee it makes even more. If you find an identical parking or hotel product cheaper within 24 hours of booking, we'll match the price or refund the difference. Simple.
✔ Avoid premium gate rates
Turning up and paying on the day for airport parking is like throwing money down the drain. With a quick, easy and secure booking process you can make effortless savings with Airparks and guarantee yourself a spot at the airport. And unlike some, we won't sting you with hidden extras; check out our airport parking charges page. Choose from a range of airport parking options at 25 airports across the UK.
✔ Compare airport parking
We don't just sell our own airport parking services, you can compare Airparks off-airport car parks with the best of other operators in and around the airports. We only sell the most reliable and best-value parking to ensure our customer feedback remains as overwhelmingly positive as it is today. We also provide a variety of parking upgrades and add-ons so that you can book the perfect package in a single booking, tailoring to your needs and keeping everything as simple as possible.
Why you should book with Airparks
We have over 20 years experience, leading the way since 1991
We offer the best in affordable airport parking - saving you up to 70%
Friendly staff at all Airparks sites offering personal assistance
We provide parking at over 20 top airports around the country - Manchester, Birmingham, Gatwick and more
We have incredible rates on airport hotels with parking included
Exceptional customer service, including support from our award-winning Kent-based contact centre
We look after every customer with a fully secured, safe booking process
What are your parking options?
Park & Ride: You can book a Park and Ride service at almost all major UK airports. Airparks sites operate this simple service, as do many official on-airport car parks and some other independent providers you can find on airparks.co.uk. Park your car and hop on the transfer bus to the airport with minimum fuss.
Meet & Greet: This is an excellent parking option for anyone with a lot of luggage or who just dislikes the whole transfer process at the beginning or end of a holiday. A professional chauffeur will meet you at the terminal and park your car for you without delay. On your return, the chauffeur will meet you again with your car so you can head home immediately. Meet & Greet airport parking is a very popular option and there are some great deals available.
Return Greet: After a long flight, no one wants to wait around for transfer buses. Offered at some Airparks locations, the Return Greet airport parking option is the best scenario, where all you need to do is step off the plane and your car will be delivered to you at the terminal. The Return Greet service is an inexpensive way to save time and hassle.
Parking for Disabled Customers: We work with many parking operators who have facilities to help disabled travellers. Our Airparks sites have accessible buses and wide parking bays and friendly staff are always on hand and happy to help any way they can. Other car parking services available to book here have varying disabled parking services so please check our pages for more details or give us a call.
Airport Parking and Hotel packages:
Fancy a treat?
Book one of our airport hotels with parking packages for a super smooth and relaxing airport experience. Drive to the airport the night (or even day) before, park your car and spend a blissful night in one of our cosy and close airport hotels.
The next morning all you've got to do is travel the short distance to the terminal, whether it's a leisurely stroll from one of our hotels within airport grounds, or from one of our (even cheaper) airport hotels in the surrounding area, a short bus transfer away.
You've not got to worry about getting stuck in airport traffic in the morning and you win yourself an extra few hours snuggled up in bed. Perfect for keeping your holiday the stress-free and easy break you deserve.
Our London airport car parks:
We have an excellent selection of London airport car parks to choose from, all at competitive prices. Airparks provides the following professional, value-for-money services:
Money Saving Tips for Cheap Airport Parking
Keeping your eye out for cheap airport parking deals is the easiest way to make sure you are saving money on your parking, and booking with Airparks is one of the best ways to do that. We constantly check our pricing to ensure that we are bringing you the cheapest airport parking we can offer.
*Prices correct at time of writing.
These are some examples prices of our cheapest airport car parks at some of the more popular airports, if you check out the individual page for your desired airport you'll find all our latest deals and best prices.
Some of our other top money saving tips
Find a price guarantee which promises to refund the difference if you find it cheaper - this shows a company is strictly reviewing their product prices and are amongst the very cheapest available. Our Airparks Best Price Guarantee does just this.
Look around for airport parking promotional coupons online. At Airparks, we send discount codes out via our newsletters, so we would recommend signing up. Visit our homepage to add your email address and we'll send you promotional codes from time to time.
Book online with a debit card to avoid the more expensive credit card fees.
Opt for off-site parking - these packages are usually the cheapest due to being a little further afield. Check the transfer times and bus frequency against on-airport services - it's usually only a minor concession if any at all.
Ensure that you book your parking early to avoid price inflation. Costs vary due to a multitude of factors but as a general rule, the earlier you book the better the price.
Keep an eye on our discount parking page to see the latest special offers available. With these discount airport car park codes you can get some truly great savings on already cheap airport parking.
Our Airport Parking Locations
Whether you're after parking at Gatwick airport or parking at Birmingham airport, we offer a variety of fantastic car parks across the country, at over 20 top airports. To book one of our smashing car parks simply select your desired airport location from the 'Flying from' drop down at the top of the page. Alternatively, for more information on our car parks at your location, choose from the list of airports on the right hand side of the page.
Our most popular locations include: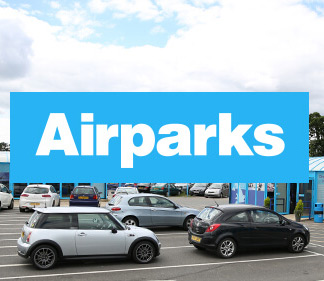 Airport Parking Gatwick
As the second busiest airport in the UK, Gatwick airport can be a bit of a nightmare for parking if you don't know what you are doing. Save yourself time, money and probably a fair bit of stress by making sure you've booked your Gatwick airport parking in advance.
This not only gives you plenty of time to work out where exactly is the best place to park for your terminal, but also let's you take advantage of our cheapest deals. Choose from a wide variety of car parks and parking options, with the option to add a fantastic Gatwick airport hotel to your booking too.
Airport Parking Gatwick North
Gatwick Summer Special parking is currently the cheapest Gatwick airport parking we offer. Serving both North and South terminals and only a ten minute transfer to the North terminal (15-20 minutes for Gatwick South), this official Gatwick car park is a real winner.
Airport Parking Gatwick South
For really cheap but really convenient parking, try our own Airparks Meet and Greet Parking. A few pounds cheaper than Gatwick Short Stay and you won't even need to park your car, as one of our friendly and professional drivers will park your car for you. This means no queues and no space hunting!
Airport Parking Manchester
Parking at Manchester airport can be pretty pricey if you haven't booked in advance. Some car parks can even charge up to £30 per day on the door, which is not great news if you're parking for seven days. Make sure you don't get caught out paying over the odds by booking one of our fantastic and much, much cheaper car parks at Manchester airport right now.
You can even bag yourself 8 days parking for an amazing £9.99 at Manchester airport Jet Parks Plus. That's a saving of 95%! Just five to ten minutes from the terminal too.
Airport Parking Birmingham
Save up to 70% off the price on the door with our Birmingham airport parking. From our super easy, super cheap Stress-Free Meet and Greet parking, to our close and convenient, official short and medium stay car parks, you're sure to find the perfect Birmingham car park for your needs.
Airport Parking Luton
Book one of our 11 fab car parks at Luton airport to save time, money and hassle before you fly. Whether you're after a car park within walking distance, like the ever popular "Luton airport short term parking, or one that offers zero hassle, like our Stress Free Meet and Greet parking, there's a car park for everyone.
Directions to airport car parks
View our complete listing of directions to airport car parks and directions to airports and nearby airport hotels.
Port Parking
We also offer Car Parking for those of your heading off on a cruise! Check out our Southampton Port car parks.
Airport Transfers
Don't forget your resort transfers when you reach your destination! Our great value Airport Transfers offer guaranteed savings and a fantastic range of shared and private transfers in worldwide destinations.
Frequently Asked Questions
How can I get cheaper airport parking?
Following the steps on this page will be the most effective way to get cheaper airport parking, it boils down to a few simple ideas to follow:
Book your airport parking in advance
Consider a park and ride car park a little further from the airport. A small transfer could save you big bucks.
Where possible, pay online with your debit card to avoid additional credit card fees.
What is the cheapest parking at Stansted Airport?
Our cheapest airport parking for Stansted is usually the Mid Stay car park, however keep an eye on our Stansted Airport Parking page for any special offers and deals.
Which London airport has the cheapest parking?
We usually find that Purple Parking at Gatwick Airport is one of the cheapest airport car parks for London.
Gatwick Airport Hotels with Parking
If you are driving to the airport, an airport hotel with parking is a great way to travel.
From only £28.00 ( 1 night and 8 days parking )
Airport Parking Reviews
Airport Parking is rated, on average, 8.8/10 by 136004 Airparks customers.
Check out all our Airport Parking Reviews.
Airparks Park and Ride
Airport Parking at Gatwick is so convenient just off the M23. Check in is quick and efficient and with regular buses you're soon at your terminal. Same on the return-excellent
Thu 25th Aug 2022
(10 out of 10)
Meet and Greet
Excellent service at the Meet and Greet at East Midlands Airport. Would highly recommend as it took the stress out of airport parking. The staff were friendly and I couldn't fault the service we received. Well worth paying a bit extra to park next to the terminal building and a hassle free way of starting the holiday.
Thu 1st Sept 2022
(10 out of 10)
APH
I always use you for airport parking. Always a very professional and reliable service
Mon 26th Sept 2022
(10 out of 10)