You are here: Home > News > Foreign exchange ATM opens at Gatwick Airparks
Foreign exchange ATM opens at Gatwick Airparks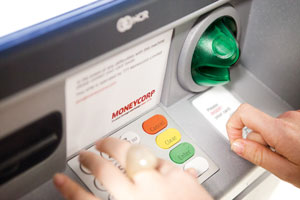 Airparks Gatwick has become the first off-airport car parking operator in the UK to provide a foreign exchange cash machine for customers.
From 12 April 2013, Airparks customers at Gatwick have been able to use the free onsite Moneycorp ATM. Located inside the reception office, it offers quick, easy access to currency without the queues at the airport foreign exchange desk.
The machine accepts all major credit and debit cards and dispenses Sterling, Euros and US dollars - 24 hours a day, seven days a week, all year round.
The ATM is managed by Moneycorp and offers a competitive rate of exchange with no charge for cash withdrawals, balance enquiries or PIN management services.
Published on April 17, 2013.