You are here: Home > News > Undercover Manchester 4 Star Hotel
Undercover 4 star Manchester Airport Hotel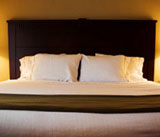 Booking an undercover airport hotel is a fantastic way to save yourself cash, but still ensure optimum quality. Imagine waking up on the airport grounds after a great nights sleep, and then being able to make your way to check-in at your own pace. You can start your holiday early at a great 4 star hotel in Manchester, and it means there's no long and tiring drive to the airport in the morning.
To ensure we can give you this competitive low price, we cannot tell you the name of the hotel until you've made your booking.
This offer is based on a room only package, and is available from just £58.00 per night.
Although we can't tell you the name, rest assured that you're still getting all the luxuries and facilities of a 4 star hotel. Rooms at this undercover four star hotel have a minibar, an en-suite bathroom, a TV with pay per view movies, a telephone, a radio, a modem point, a hairdryer, a trouser press and tea and coffee making facilities.
Airparks do not sell airport hotels, but we are pleased to work with our preferred partners Holiday Extras. Check out the link for Manchester airport hotels now to make your undercover 4 star booking.
Book Manchester airport hotel
Published November 19 2009
---
Other Related Articles
Tunisia travel disruption. Monday, June 29, 2015
Important information for customers travelling to or returning from or affected by Friday's events in Tunisia.
Gatwick Airport Chauffeured Parking Service
Gatwick CPS offer a low cost, efficient and friendly personal parking service with high levels of security.
Gatwick Airport Mystery Hotels - Airparks Special Deals
Book an un-named four star airport hotel at Gatwick for a bargain price - rates start from £45 a night
Bristol Airport Holiday Inn
Enjoy low rates at the Bristol Holiday Inn - Room plus 8 day parking from £125 or room plus 15 days parking from £140.
Airparks featured in Which? magazine
Airparks airport parking get a mention for low prices in Which? consumer magazine.