Hallmark Inn Manchester South
Directions to the Hallmark Inn Manchester South | Summary
If you're looking for a charming hotel without breaking the bank then the Hallmark Inn Manchester South could be just what you're after.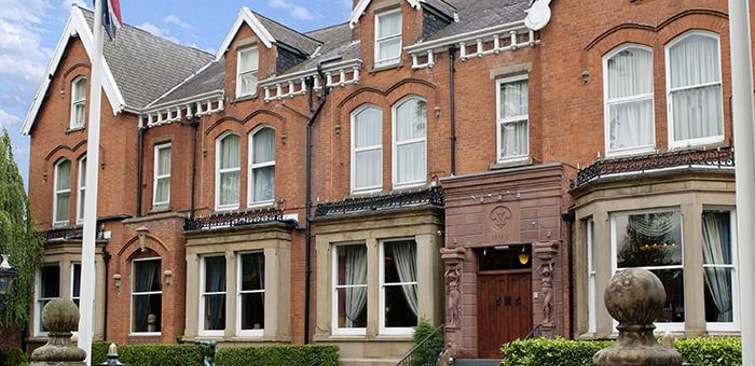 With vintage touches throughout this delightful hotel still provides the modern amenities that you'd expect including free WiFi throughout so you can show off on your social media.
Rooms
You'll find it easy to unwind and relax in the stylish rooms at the Hallmark Inn, while they are small, the rooms are clean and comfortable. The plush and sumptuous furnishings blend with mellow wood furniture to bring you a cosy experience; put your feet up and browse the internet using the free WiFi or just see what's available to watch on the in-room TV.
| Room type | WiFi | Flat-screen TV |
| --- | --- | --- |
| Standard | ✓ | ✓ |
Restaurant and Bar
Breakfast served:
Monday - Friday: 07:00AM - 09:30AM
Saturday: 07:30AM - 10:30AM
Sunday: 08:00AM - 11:00AM
The breakfast at the Hallmark Inn Manchester South is a tasty and hearty breakfast buffet with a range of cooked and cold items. There's also a menu of cooked to order breakfasts and vegetarian options so you shouldn't have any trouble finding something to get your day going. You can book your breakfast in advance through Airparks for £10 per person.
Although the restaurant only serves breakfast, the on-site bar offers a range of lighter bites like burgers, salads, club sandwiches and more besides. If you are looking for something a bit more substantial there are plenty of restaurants and eateries within walking distance.
Parking and transfers to Manchester Airport
You'll have 2 options for parking at the Hallmark Inn Manchester South:
The first is to park at the hotel itself, simply drive to the hotel and park up; you'll need to hand your keys in at reception in case they need to move your car while you're away. When it's time to head to Manchester Airport the hotel reception can book you a taxi which is included in the price, these are available 24 hours a day and take about 20 minutes to reach the terminal.
Alternatively you can park at the Long Stay car park of your terminal. On the day of your stay you can park at the hotel free of charge, in the morning drive to the Long Stay car park and find a spot. Once you have parked you can grab the free transfer shuttle to the airport, this runs 24 hours a day and takes 5-10 minutes to get to the terminal.
All directions and information will be included in your booking confirmation email.
To check pricing and availability simply enter your travel dates at the top of the page. When you're ready to arrange your stay at the Hallmark Inn Manchester South you can do so in one easy booking.
Accessibility
If you have any questions or specific requirements please contact the Hallmark Inn Manchester South on 0330 028 3427.
Hotel check-in/out details
Check-in from 14:00PM
Check-out by 11:00AM
A quick summary of the Hallmark Inn Manchester South:
A delightful and charming 3-star hotel with vintage touches offering free WiFi and a reasonably priced stopover.
Pros
Cons

✓

Free WiFi

✗

Breakfast not included

✓

Free transfers

✗

Bar food only after breakfast

✓

2 options for parking
Hotel facilities
Free WiFi
On-site bar and lounge
---
Room facilities
Free WiFi
Flat-screen TV
Tea/Coffee facilities
Hair dryer
Iron/Ironing board
Work desk
All information is correct at the time of writing. For the latest information please check with the hotel.