You are here: Home > News > NEW
Same-day bookings at Stansted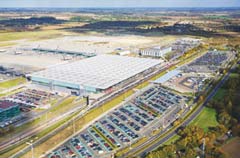 Airparks is proud to announce a new Stansted parking option made exclusively available to our customers. Airparks is constantly dedicated to seeking new ways to save our customers' money, and to give you the best possible service and options.
At Airparks, we're believers that parking should be booked in advance to avoid a hefty bill at the end of your holiday. There's nothing worse than coming back from your holiday, and then having to fork-out more than you should for parking at Stansted airport. But what if it isn't possible? That's why our new same-day booking option is perfect, and means you can save money even at the shortest of notice.
Stansted Long Stay and Stansted Mid Stay parking is now available to be booked on the day of your travel. Forgotten to make your booking, or need to travel at short notice? Don't be caught out by the on-airport gate rates by turning up on the day. If you're one of those people that leaves things until the last minute, it makes sense to take advantage of this exclusive option. With one simple phone call or click, you can make your booking online with us - saving you hassle and money.
So, if you're travelling today, in the near future, or you know someone that is - don't fall into the trap of expensive parking. You can make that well-deserved saving on Stansted parking with Airparks. And remember, this offer is available for a limited period only.
Published on November 16 2009
Other news
Tunisia travel disruption. Monday, June 29, 2015
Important information for customers travelling to or returning from or affected by Friday's events in Tunisia.
Gatwick Airport Chauffeured Parking Service
Gatwick CPS offer a low cost, efficient and friendly personal parking service with high levels of security.
Gatwick Airport Mystery Hotels - Airparks Special Deals
Book an un-named four star airport hotel at Gatwick for a bargain price - rates start from £45 a night
Bristol Airport Holiday Inn
Enjoy low rates at the Bristol Holiday Inn - Room plus 8 day parking from £125 or room plus 15 days parking from £140.
Airparks featured in Which? magazine
Airparks airport parking get a mention for low prices in Which? consumer magazine.