You are here: Home > News > Brummies get extra help to save money on their holiday budget
Brummies get extra help to save money on their holiday budget
Airparks offers 10% off airport parking in new radio ads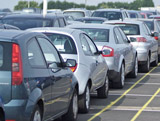 Holidaymakers jetting off from Birmingham airport this summer won't want to miss out on the superb savings available to them as Airparks launches its first-ever radio advertising campaign.
The UK's largest off-airport car park operator is offering a 10% discount to every customer who quotes the discount code promoted in the new regional radio ads.
Latest Airparks research has revealed that 62% of Brummies plan to take one or two holidays this year.
James Thompson, Airparks' brand manager, said: "Our recent survey told us that people across central England consider value for money the most important factor when booking a holiday. And a quarter say they hope to spend less this year than last on holidays - so this special offer at Birmingham Airparks couldn't be more timely."
A week's parking at Airparks Birmingham costs from £29.92 during July*, before any discount. The Airparks radio adverts will air on Heart Gloucestershire, Beacon Radio and Wyvern FM from 1 June to 30 June, 2010.
Customers can redeem their 10% discount online or via Airparks' award-winning call centre
Published by Maxine Clarke on June 4, 2010