You are here: Home > News > SAVE
Liverpool Airport Price Buster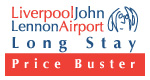 Airparks is pleased to announce a new, impressive cash-saving parking product. Saving money is essential, especially at this time of the year with Christmas fast approaching. If you're going to be using Liverpool John Lennon airport in the near future, you can take advantage of this fantastic Price Buster offer.
The Liverpool airport car park is situated right in front of the main terminal and is within easy walking distance. Both convenient and cost-effective, Liverpool Airport Long Stay is the perfect place to park when flying from Liverpool airport. With our new Price Buster product, parking has never been so easy on your pocket.
This new product is bookable now for immediate stays with prices from just £31.99 for an 8 day stay & £41.99 for 15 day stay, subject to availability.
For more information on the Liverpool Airport Long Stay car park, check out the link Liverpool Airport Long Stay.
Published on November 18 2009
Other news
Tunisia travel disruption. Monday, June 29, 2015
Important information for customers travelling to or returning from or affected by Friday's events in Tunisia.
Gatwick Airport Chauffeured Parking Service
Gatwick CPS offer a low cost, efficient and friendly personal parking service with high levels of security.
Gatwick Airport Mystery Hotels - Airparks Special Deals
Book an un-named four star airport hotel at Gatwick for a bargain price - rates start from £45 a night
Bristol Airport Holiday Inn
Enjoy low rates at the Bristol Holiday Inn - Room plus 8 day parking from £125 or room plus 15 days parking from £140.
Airparks featured in Which? magazine
Airparks airport parking get a mention for low prices in Which? consumer magazine.