Best Price Guarantee on Airport Lounges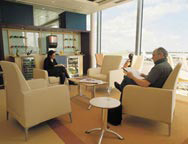 Dedicated to offering the lowest prices and greatest value, Airparks, through our preferred partner Holiday Extras are now offering the Best Price Guarantee* on all airport lounges.
This means you can now start your holiday early, knowing you've paid the best price for a lounge at the airport.
Airport lounges are the perfect way to relax and unwind. In peaceful and tranquil surroundings, you can enjoy complimentary drinks including alcoholic beverages, snacks, newspapers and magazines - and up to three hours before your flight. Take a comfortable seat and enjoy complete contrast to the hustle and bustle of the public departure lounge.
We offer airport lounges from just £13.50pp at 19 UK airports. Pick from a selection of executive lounges offering superb hospitality to really make a difference before your flight.

Published on January 5 2010
*If you find an identical lounge product cheaper within 24 hours, we'll match the price or refund the difference.
---
Other Related Articles
XL Leisure Group enters administration
A response to XL Leisure Group's administration
Airparks' World Cup promotion winner gets Manchester United season ticket
Mr Stewart from Grimsby, entered the Airparks World Cup prize draw and won a Manchester United season ticket.
Winter Deals - Free Weeks
Airparks is running an extremely advantageous offer that will benefit those who leave the country for a longer period this winter.
Which? Travel finds that Airparks offer cheapest deals at Glasgow
Travellers flying out of Glasgow Airport for the June half term can buy a week's holiday parking for just £32.99
Which?Travel finds that Airparks offer cheapest deals
Travellers flying out of East Midlands Airport for the June half term can buy a week's holiday parking for just £44.99