You are here: Home > News > Airport Lounge
Best Price Guarantee on Airport Lounges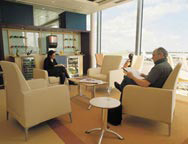 Dedicated to offering the lowest prices and greatest value, Airparks, through our preferred partner Holiday Extras are now offering the Best Price Guarantee* on all airport lounges.
This means you can now start your holiday early, knowing you've paid the best price for a lounge at the airport.
Airport lounges are the perfect way to relax and unwind. In peaceful and tranquil surroundings, you can enjoy complimentary drinks including alcoholic beverages, snacks, newspapers and magazines - and up to three hours before your flight. Take a comfortable seat and enjoy complete contrast to the hustle and bustle of the public departure lounge.
We offer airport lounges from just £13.50pp at 19 UK airports. Pick from a selection of executive lounges offering superb hospitality to really make a difference before your flight.

Published on January 5 2010
*If you find an identical lounge product cheaper within 24 hours, we'll match the price or refund the difference.
---
Other Related Articles
Tunisia travel disruption. Monday, June 29, 2015
Important information for customers travelling to or returning from or affected by Friday's events in Tunisia.
Gatwick Airport Chauffeured Parking Service
Gatwick CPS offer a low cost, efficient and friendly personal parking service with high levels of security.
Gatwick Airport Mystery Hotels - Airparks Special Deals
Book an un-named four star airport hotel at Gatwick for a bargain price - rates start from £45 a night
Bristol Airport Holiday Inn
Enjoy low rates at the Bristol Holiday Inn - Room plus 8 day parking from £125 or room plus 15 days parking from £140.
Airparks featured in Which? magazine
Airparks airport parking get a mention for low prices in Which? consumer magazine.