You are here: Home > News > Ride in style
Ride in style - NEW buses at Airparks Glasgow
Who wants to walk when you can get a lift?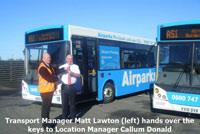 It's that phrase that many lazy people mutter, but really, who wants to walk with copious amounts of luggage from the car park to the terminal? Not only will you pay more to park nearer to the airport terminal, but it means there's a longer walk to it too. So, why not pay a lot less, park off-airport and get a FREE transfer directly to the airport terminal. And in comfort with two brand new courtesy buses at Airparks Glasgow.
Airparks, the company that is proud to park your car, is now proud to transfer you completely FREE in a new fleet of clean, modern and reliable courtesy buses. Fully compliant with the Disability Discrimination Act (DDA), it makes travelling for disabled customers worry-free and easy. With transfers running every 20 minutes between 04.00 and 23.00, and a regular shuttle service on request outside of these times, it's a completely convenient way to park at the airport.
Danny Devine, PCV driver at Airparks Glasgow says, "The new buses are a dream to drive" - and we're sure they're a treat to ride on for customers too.
Airparks Glasgow, offering self-park and priority parking services, is a modern and secured off-airport car park with 2,300 spaces, including undercover parking. With eight days' parking from just £34.95*, it makes parking at Glasgow airport easy, hassle-free and cost-effective. For more information, or to make a booking click here.
Published by Ross Barnard on April 8, 2010
*Prices correct as of April 9, 2010 and are based on eight days' parking at Airparks Glasgow from 08/04/10.
Other related articles
Tunisia travel disruption. Monday, June 29, 2015
Important information for customers travelling to or returning from or affected by Friday's events in Tunisia.
Gatwick Airport Chauffeured Parking Service
Gatwick CPS offer a low cost, efficient and friendly personal parking service with high levels of security.
Gatwick Airport Mystery Hotels - Airparks Special Deals
Book an un-named four star airport hotel at Gatwick for a bargain price - rates start from £45 a night
Bristol Airport Holiday Inn
Enjoy low rates at the Bristol Holiday Inn - Room plus 8 day parking from £125 or room plus 15 days parking from £140.
Airparks featured in Which? magazine
Airparks airport parking get a mention for low prices in Which? consumer magazine.