You are here: Home > News > Going the extra mile with NVQ training
Going the extra mile with NVQ training
Staff at Airparks East Midlands put NVQ training into practice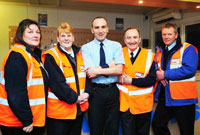 Airparks East Midlands is an off-airport car park with over 1400 spaces. Just eight minutes from the airport terminal, it's a convenient and efficient way to park your car at the airport. And at a considerably lower cost than parking your vehicle at an on-airport car park.
Of course, there are other benefits despite convenience and price. With several members of the Airparks East Midlands team currently undergoing NVQ training in customer service, it has meant 'going the extra mile' has become second nature to them.
Alison Pike, receptionist at Airparks East Midlands, who has achieved NVQ2s in team leading, customer service and business administration has been putting her training into practice. Demonstrating outstanding customer service skills, Alison provided a fine example of 'going the extra mile'.
A customer had missed her boarding gate by a couple of minutes at East Midlands airport, and resulted in her being unable to board her flight. The customer came back to the Airparks East Midlands reception particularly distressed and upset, just as Alison was just about to finish her shift.
Alison managed to rearrange a flight from Luton airport, with her return flight coming back to East Midlands. She then immediately offered to take the customer in her own time down to Luton airport in the customer's car, and then bring it back to Airparks East Midlands for her return.
From this, it's clear to see that Alison's skills are already being put to great use.
Karen Robbins, location manager at Airparks East Midlands says, "The advantages of offering NVQ training to its support staff is already being felt in levels of customer satisfaction."
So, get yourself down to Airparks East Midlands and not only benefit from low-prices and a reliable service, but from outstanding customer service too.
Published by Ross Barnard on April 9, 2010
Other related articles
Tunisia travel disruption. Monday, June 29, 2015
Important information for customers travelling to or returning from or affected by Friday's events in Tunisia.
Gatwick Airport Chauffeured Parking Service
Gatwick CPS offer a low cost, efficient and friendly personal parking service with high levels of security.
Gatwick Airport Mystery Hotels - Airparks Special Deals
Book an un-named four star airport hotel at Gatwick for a bargain price - rates start from £45 a night
Bristol Airport Holiday Inn
Enjoy low rates at the Bristol Holiday Inn - Room plus 8 day parking from £125 or room plus 15 days parking from £140.
Airparks featured in Which? magazine
Airparks airport parking get a mention for low prices in Which? consumer magazine.