You are here: Home > News > Grab a summer bargain at Airparks
Grab a summer bargain at Airparks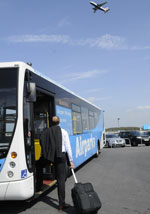 Travellers looking for a late summer bargain can take advantage of great deals on airport parking at Airparks sites across the UK. Airparks Birmingham is currently offering parking from just £3.50 per day - a saving of almost £3 a day compared with on-airport parking. For eight days, the price is £29.92 at Airparks, compared with £45.60 at the on-airport car park.
Holidaymakers can also save time on their return, when they book the Airparks Return Greet service, where their car is brought to the terminal on return from holiday for just £54.92. There are equally great savings at Luton, where parking at Airparks costs around £7.50 a day. Parking in the on-airport car parks, on the other hand, costs about £10 a day.
Airparks provides airport parking at Birmingham, Cardiff, East Midlands, Gatwick, Glasgow, Luton and Newcastle. All Airparks sites are less than five miles from the airport, and are fully secured.
Tristan MacIntyre-Read, Site Experience for Airparks said: "Some of our Airparks sites are offering a week's parking for less than half the price you'd pay in an on-airport car park."On-airport car parks can be up to 15 minutes from the terminal, still requiring you to use a shuttle bus: so sometimes off-airport parking can be equally as convenient, as well as a great deal cheaper."