You are here: Home > News > NEW product
NEW parking product: APH Manchester
Secured off-airport parking at Manchester airport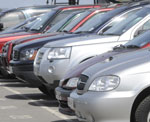 Jetting off from Manchester airport? Take a moment to look at the APH Manchester off-airport car park. Offering more choice when flying from Manchester, Airparks is always seeking the best fully secured car parks across the UK.
Just a five minute transfer to-and-from the Manchester terminals, APH is a completely convenient way to store your car during a short or long stay trip. If you're looking for added peace of mind, you'll be glad to hear that APH Manchester is fully secured with special measures in place to make sure your car is completely safe while away.
Offering off-airport prices with on-airport convenience, APH Manchester is now bookable for immediate stays from just £31.92* for eight days' parking, or £59.85* for 15 days' parking, subject to availability.
Click here for more information on APH Manchester, or for a quote, fill in your details at the top of this page.
Published on June 18, 2010
*Prices are subject to availability and are based on dates between 21/06/10 and 05/07/10.