You are here: Home > News > Airparks' World Cup promotion winner gets Manchester United season ticket
Airparks' World Cup promotion winner gets Manchester United season ticket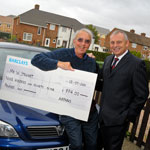 Football fan Bill Stewart from Grimsby, is celebrating after winning a season ticket to watch his favourite team.
Leading UK airport parking company Airparks gave the Manchester United devotee the amazing prize after he won a prize draw that ran during the World Cup.
The company entered everyone who booked airport parking with them between March 15 and May 31 into a prize draw to win either a season ticket to the football club of their choice, a year's subscription to Sky Sports, or an official England kit. Mr Stewart was picked from almost 24,000 people.
Paul Harris, Northern Operations Manager for Airparks presented Mr Stewart with a cheque for £994 at his home in Grimsby. The money will cover not only the season ticket but up to 10 cup games.
Bill, 61, said: "I'd forgotten all about the competition. I'm over the moon - you never expect to win things like that. I couldn't believe it when the person from Airparks called me.
"I've supported Manchester United since I was a lad. I try to go to as many games as I can so this prize is just amazing. I'm so pleased to have won this competition."
Paul Harris said: "We're really pleased to be able to give Mr Stewart a prize which obviously means so much to him."
Published by Helen Gillilan on September 21, 2010