You are here: Home > News > Airparks' World Cup prize draw
Airparks' World Cup prize draw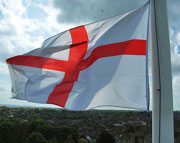 Airparks, the UK's largest off-airport car parking company, is giving away an annual season ticket to the winner's favourite UK football club, in its new and exciting 2010 World Cup prize draw.
This amazing prize kicks off the World Cup season in style, but that's not all; the next lucky winner will get one years' Sky Sports subscription in HD, with a runner-up scoring an official England 2010 World Cup football kit.
James Thompson, brand manager at Airparks said, "For football lovers and those who want to pre-book and save, there's never been a better time to book your airport parking with Airparks.
"Airparks is offering customers these fantastic competition prizes to kick-start the football fever that will surround the 2010 World Cup. Book your parking to be in it to win it, with our great World Cup prize draw."
All customers making a booking at one of Airparks' eight car parks across the UK, from March 15 to May 31 2010, will automatically be entered into the draw. 
Make a booking with Airparks today and be in with a chance.
Published by Helen Gillilan on March 22, 2010