You are here: Home > News > We won't charge you extra
Airport parking charges
We won't surprise you with hidden extras or sting you with charges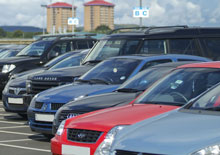 Many people may look at our prices and ask what the catch is, but there really isn't one. Some companies charge you for little extras where you don't notice them, but we don't. Our job is to make everything as clear as possible to our customers, ensuring we give you the best quality service and at the lowest price.
Contact us for a 99p cancellation protection fee offered to all customers. We won't charge you for amending your booking, neither do we charge you for paying with a debit card or to take photos of the condition on your own car on arrival at our car parks.
For more information on airport parking charges and how we don't just save you money on your airport parking booking, check out our airport parking charges page.
Published on March 5, 2010 by Ross Barnard.