You are here: Home > News > Airparks Cardiff gets its very own time-saving check-in machine
Dr. Who meets the fantastic time-saving machine at Airparks Cardiff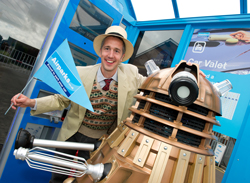 The team at Airparks Cardiff is so delighted with their new automated check-in / check-out system that they invited Dr Who, along with his nemesis - a Dalek - to test its time-saving features.
The innovative automated check-in is another step towards Airparks' goal of exemplary customer service; with queue-busting check-ins and smoother check-outs.
Howard Dove, CEO of Airparks, said: "Airparks has devoted nine months to developing this secure automated system. It is part of a £1.5 million project to revamp our sites across the UK and continue to improve customer experience.
"Cardiff is Airparks' first fully automated check-in and check-out. Customers park in the arrivals area as usual, check in at one of the three machines and deposit their car keys in the secure box. When they return they collect their keys from the dispenser and head over to the departure area where their car will be waiting for them. It's Fantastic!"
Published by Helen Gillilan on May 11, 2011.