You are here: Home > News > Lo-cost airport parking just got even cheaper.
Lo-cost Airparks airport parking just got even cheaper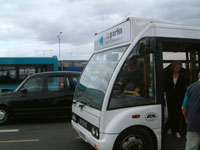 Airparks today announced its LOWEST prices at Luton and Manchester airports.
At Luton, the company is offering an 18 per cent reduction on its Airparks Luton Advance parking deal, from as little as £23.92 for eight days parking and £44.85 for 15 days. These fantastically low prices, equivalent to just £2.99 per day, are available until mid-July.
Between now and the end of April, Meet and Greet parking at Airparks Manchester is available from just £47.95 for eight days and £68.95 for 15 days. That's a reduction of 16 per cent on the usual prices, just £4.60 per day.
Sean Hagger, commercial manager at Airparks, said "This is a great time to book your airport parking at Luton and at Manchester with Airparks. We are proud to offer excellent price reductions on high quality airport parking throughout the UK."
Published on: March 13, 2009
Other Related Articles
Tunisia travel disruption. Monday, June 29, 2015
Important information for customers travelling to or returning from or affected by Friday's events in Tunisia.
Gatwick Airport Chauffeured Parking Service
Gatwick CPS offer a low cost, efficient and friendly personal parking service with high levels of security.
Gatwick Airport Mystery Hotels - Airparks Special Deals
Book an un-named four star airport hotel at Gatwick for a bargain price - rates start from £45 a night
Bristol Airport Holiday Inn
Enjoy low rates at the Bristol Holiday Inn - Room plus 8 day parking from £125 or room plus 15 days parking from £140.
Airparks featured in Which? magazine
Airparks airport parking get a mention for low prices in Which? consumer magazine.