You are here: Home > News > Keep your car safe from the British winter at Airparks
Keep your car safe from the British winter at Airparks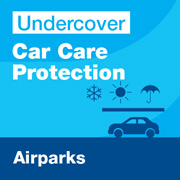 Heavy snow, below-zero temperatures and icy winds - if ever there was a time to protect your car from the elements, this is it.
Fortunately, holidaymakers parking at Airparks Gatwick and Airparks Newcastle can now book a space in the covered part of the complex to ensure their car remains clean and dry and ice-free while they are away.
A week's undercover parking currently costs £66.95 at Gatwick and £42.95 at Newcastle - where Airparks is the only car park to offer covered parking.
Sean Hagger, head of commercial at Airparks, said: "People don't want to be outside for any longer than they have to in this kind of weather - and cars don't either.
"With our special packages your undercover space is guaranteed - so you can head off and enjoy the sunshine knowing that your car's as safe from the British weather as you are."
Published by Helen Gillilan on December 7, 2010