You are here: Home > News > Customers caught in volcano chaos won't be charged extra by Airparks
Customers caught in volcano chaos won't be charged extra by Airparks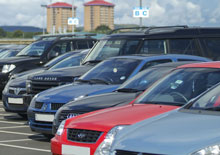 Charges have been waived for customers who have had to leave their vehicles at Airparks, after becoming stranded because of the volcano eruption.
Customers booked into Airparks car parks can also amend their bookings free of charge, if the disruption has forced customers to change their travel arrangements.
This only applies to Airparks sites, and not other car parks booked through Airparks.
Howard Dove, CEO of  Airparks, said:
"The volcanic ash cloud has created a very difficult and stressful situation for many travellers.
"At Airparks, we've decided to waive any costs for extra days' parking for customers who can't get back to the UK because their flights have been cancelled or postponed because of the closure of UK airspace.
"We will also allow customers who have already booked to amend their bookings free of charge. Hopefully, this will alleviate one of travellers' worries.
"Airparks is the first airport car park operator to make this offer."
The firm is the biggest off-airport provider in the UK, with 28,000 spaces at eight different airports.
Published by Ross Barnard on April 16, 2010