You are here: Home > News > Airparks supports Make Holidays Greener campaign
Airparks supports Make Holidays Greener campaign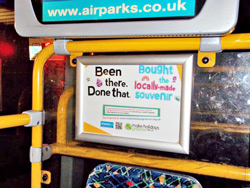 Off-airport parking company Airparks is supporting Make Holidays Greener month, a campaign which promotes sustainable tourism.
This year's focus is to encourage travellers to do one thing that will benefit local people and protect the environment in their holiday destination.
And Airparks is helping to spread the message at its eight UK car parks by offering green tips to holidaymakers before they jet off.
Posters have been placed in each site's reception and on all transfer buses, and some of the suggestions include sampling cuisine in local cafes and restaurants, and buying locally-produced souvenirs made from sustainable materials.
Published on July 17, 2012.