You are here: Home > News > Airparks helps three men go the extra 10,000 miles
Airparks helps three men go the extra 10,000 miles
'It'll Do a Trip' do the Mongol Rally to raise cash for charity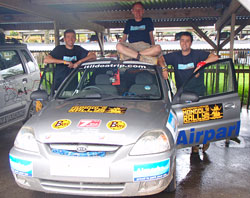 The UK's largest off-airport parking operator is supporting three determined men to fulfill their mission: a 10,000-mile trip to Mongolia to raise money for four charities.
The three-man team are being sponsored by friends, family and companies to venture across five mountain ranges, three deserts and extremely challenging terrain - all in a Kia Rio.
Airparks has provided the men with airport parking for their own cars while they're away, and the company will welcome them back to Birmingham airport VIP-style with its Meet and Greet chauffeur service.
The money raised will go to the Lotus Children's Centre, the RAFBF (the RAF Benevolent Fund), the Alzheimer's Society and Fight For Sight.
The team left on July 13, and the challenge will take around around three to four weeks. 
Published on July 17, 2012.