You are here: Home > News > Giving Airport Parking Prices A Kicking
Giving Airport Parking Prices A Kicking!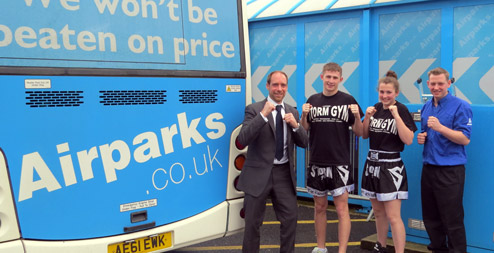 Airparks' great-value airport car parks is sponsoring two talented young kickboxers in the World Amateur Kickboxing Championships.
Airparks has donated £600 to the British pair to help with their travel costs as they journey to Spain this spring to take part in the international competition.
Airparks team member Lee Liddiard approached his employers for sponsorship of his two young cousins, 16-year-old Anthony Edwards and 15-year-old Chloe Edwards. The pair train at Luton's Storm Gym and have 9 years' experience in mixed martial arts. Anthony is already a British ISKA full contact, WAKO European and Ringmasters champion.
"Airparks are always keen to support junior sport talent, especially when it's so close to the Airparks family," said Tristan MacIntyre-Read, Customer Experience Manager at Airparks. "We wish them all the best and look forward to welcoming them home as winners!" he added.
Airparks have car parks at Birmingham and Luton airports and offer airport parking throughout the UK via their award-winning website.
Published on 4 March, 2014