You are here: Home > News > Airparks has teamed up with JamesVillas.co.uk
Airparks has teamed up with JamesVillas.co.uk
Two leaders in the travel market have joined forces to offer holidaymakers the perfect beginning, middle and end to their trip.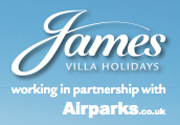 The UK's largest off-airport parking company Airparks, which looks after more than half a million vehicles annually, is working with the villa specialist to help its customers discover handpicked accommodation in over 60 destinations.
Airparks customers can request their free James Villa Holidays brochure here or by texting airparks plus your name and address to 84433.
Tristan MacIntyre-Read, Brand and Customer Experience Manager at Airparks, commented: "Airparks is delighted to be working with James Villas, and we're hoping that our parnership will open a new avenue to our customers who are keen to experience a package holiday with a twist."
Published on July 3, 2012.