You are here: Home > Leeds Bradford Airport Parking
Leeds Bradford Airport Parking

Huge savings can be made on Leeds Bradford Airport parking when you book with Airparks. How? By booking in advance. Discounts of up to 60% off the on-gate parking price can be had if you book far enough ahead, meaning more money in your pocket to spend on holiday. Our online booking form is secure and easy-to-use, so for the sake of a few minutes minimal effort, you could be converting pounds spent on Leeds Bradford Airport car parking into pounds for your holiday budget. Turning up on the day and paying for on-the-gate airport parking could see you being charged up to £20.00 a day, whereas pre-booking can reduce this amount to as little as £4.94 a day. So it's well worth it.
In addition, Airparks offer a Best Price Guarantee on all our Leeds Bradford Airport car parks, so you can rest assured you are getting Leeds Bradford parking for the cheapest prices on the market.
Reviews for Leeds airport Parking
Leeds airport parking from Airparks.co.uk has been rated

90%

by 2040 travellers.
Leeds Bradford airport parking Articles
Attractions Near To Leeds-Bradford Airport
Attractions Near To Leeds-Bradford Airport - Things to do in and around Leeds Bradford Airport
Cheap Leeds Bradford Airport Parking
Cheap Leeds Bradford Airport Parking - Pre book cheap Leeds Bradford Airport parking online with Airparks and save money. We have the best selection of services offering the cheapest Leeds Bradford Airport parking available
Saving Money Parking at Leeds Bradford Airport
Many travellers find that there are three main ways in which they can save money on airport car parking at Leeds Bradford Airport.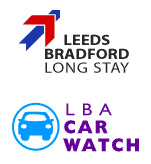 An increasing number of travellers drive to Leeds Bradford airport - parking their car at the airport car park for the duration of their holiday. With an increasing amount of passengers and Leeds being a large city, it's important to think ahead and book in advance to reserve your space. If you book your Leeds airport parking today, you can either make your booking through our website, or through our award-winning call centre on 0800 747 777.
Take advantage of the convenient and stress-free Leeds Bradford Airport Car Watch car park. Just 800 yards from the Leeds airport terminal with transfers operating 24 hours a day, taking just three minutes to get there. We also offer two other Leeds Bradford Airport on-site parking options - Leeds Bradford Long Stay and Leeds Bradford Long Stay Supersaver. If you know your stay-dates are set in stone, taking advantage of our supersaver option can save you money - and a very easy way to save cash. (Please note: These booking cannot be amended or cancelled.)
However, if know your booking may change, you can enjoy the same benefits of the same Leeds Long Stay car park at a small extra cost.
Book your parking at Leeds Bradford with Airparks today and make a saving.