The Top 3 Nearest Heathrow Terminal 2 Hotels
If you're heading away on a trip then you'll want everything to be as simple and straightforward as possible, and one of the best ways to do that is to book a stay at a Heathrow Terminal 2 hotel; this can save you valuable time on the morning of your flight.

Here we have gathered the 3 nearest hotels to Heathrow Airport Terminal 2 based on both distance and transfer time, sometimes you'll find that the closer hotels aren't always the quickest. If you'd like to see the full range of Heathrow Airport hotels you can find them on our Heathrow Hotels page.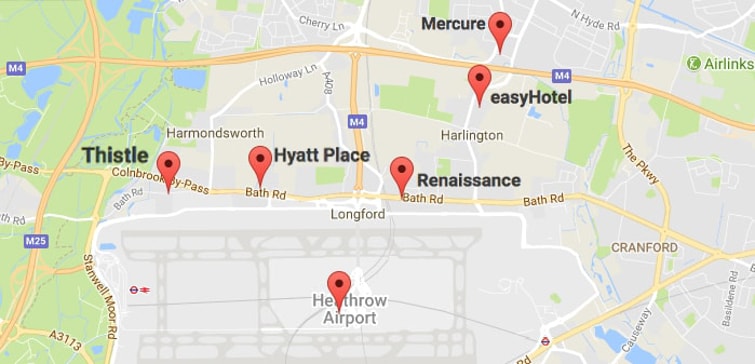 Below you'll find a bit more information about our 3 hotels near Heathrow Terminal 2, giving you more of an idea which one would be most suitable. You can also enter your travel dates at the top of the page to check availability and pricing; when you're ready to arrange your stay at one of our Heathrow Terminal 2 hotels everything can be completed in one simple booking.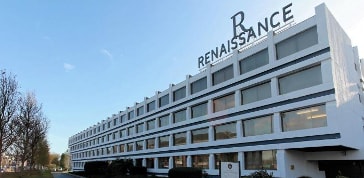 Renaissance Hotel Heathrow
From £164*
*Based on 8 days parking
Renaissance Hotel
A luxury 4-star hotel near Terminal 2 of Heathrow Airport, the Renaissance Hotel is a stylish and chic way to start your holiday.
Just 1.3 miles from the airport you'll be able to either park at the hotel and use the Heathrow Hoppa bus service bus service to the airport or book Drivefly Meet and Greet. If you decide to use the Meet and Greet service then on the morning of your flight you'll drive to the airport (this takes about 6 minutes) and drop your car off to be parked by a professional driver while you stroll into Heathrow Departures; this is the easiest method.
During your stay at the Renaissance Hotel near Heathrow Airport you'll be able to enjoy free WiFi throughout as well as access to an on-site health club with gym, sauna and steam room.
There's also an elegant on-site restaurant and in the morning you can tuck into a very generous breakfast buffet, it costs £12.50 per person unless you book in advance with Airparks.
Don't worry about being so close to Heathrow, all the rooms have soundproofing so you shouldn't have any trouble getting a good night's sleep. Here's a quick rundown of some of the features you'll find in your room.
Free WiFi
TV
Cable/Satellite
Tea/Coffee facilities
Hairdryer
Telephone
Iron/Ironing board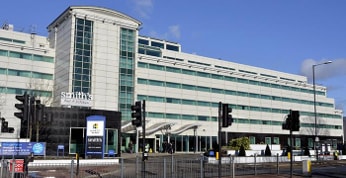 Hyatt Place Heathrow
From £156*
*Based on 8 days parking
Hyatt Place
A modern and contemporary 4-star hotel close to Heathrow Terminal 2, Hyatt Place offers free WiFi and 24-hour gym to make sure you have everything you need for a relaxing stay.
Only 1.9 miles away from Heathrow Airport, Hyatt Place offers the convenience of the Drivefly Meet and Greet service. After parking your car for free overnight at the hotel simply drive to Heathrow Airport (about 8 minutes away) and hand your car over to the professional Drivefly driver who will park it for you while you get your holiday started. This makes it much easier than some of the closer hotels that require transfers!
In the morning the on-site restaurant serves a hearty breakfast buffet including made to order omelettes which you can enjoy for £15.95 per person.
Hyatt Place offers spacious rooms that have been luxuriously decorated in order to help you fully relax before your flight; here are some of the main features you can expect from your room.
Free WiFi
42" TV
Refrigerator
Tea/Coffee facilities
In-room safe
Work desk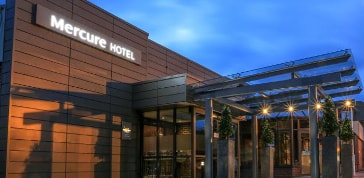 Mercure Hotel Heathrow
From £139*
*Based on 8 days parking
Mercure Hotel
The Mercure Hotel is a very stylish and elegant 4-star hotel located just 2.1 miles from Heathrow Airport.
With the Mercure Hotel you can park in the hotel car park; in the morning the Heathrow Hoppa runs from right outside the hotel so it's easy to catch. Return tickets are £8.50. Alternatively you can use the Drivefly Meet and Greet service, park overnight at the hotel, then in the morning it's just a 9 minute drive to the airport where a professional driver will park your car for you, the height of ease and convenience.
During your stay at the Mercure Hotel you'll benefit from free WiFi throughout, access to the on-site gym and there's even a kid's club for ages 4-6; everything you could need to get your holiday started a day early.
The on-site restaurant provides a delicious continental breakfast for £9.95 per person, or a full English for £14.95 per person, although if you book the full English breakfast in advance through Airparks you'll get it for just £10 per person.
The contemporary and stylish rooms at the Mercure Hotel are a great place to relax and with air conditioning and blackout curtains you shouldn't have any trouble getting to sleep. Here's a few of the other features in your room.
Free WiFi
TV
Refrigerator
Hair dryer
Laptop safe
Iron/Ironing board
Air conditioning
All information is correct at the time of writing. For the latest information please check with the hotels.
If our hotels near Heathrow Terminal 2 aren't quite what you're looking for you can always check out our full range of Heathrow Hotels or, below, you can find our most popular Heathrow Airport Hotel and our cheapest Heathrow Airport Hotel.
Our most popular Heathrow Hotel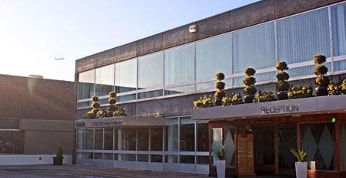 Thistle Hotel Heathrow
From £100*
*Based on 8 days parking
Thistle Hotel
This sophisticated 4-star hotel is the most popular Heathrow Airport with our customers.
Although primarily a hotel for those flying from Terminal 5, the Thistle Hotel has become a firm favourite with guests for any terminal. The stylish surroundings provide the perfect space in which to unwind and with free WiFi throughout, a free breakfast thrown in and free access to the gym fitness centre next door, you can be rest assured everything is covered.
Parking is a nice simple affair, provided on-site at the hotel and when it's time to head to Heathrow Airport you can jump on the POD shuttle; it runs every 3 minutes, takes 5 minutes to get to terminal 5 and costs £5 per person.
From Terminal 5 you can get to any of the other terminals via a train or bus, these journeys take roughly 20 minutes.
The air conditioned and soundproofed rooms at the Thistle Hotel are supremely comfortable and will make it easy for you to drift off on the night of your stay. Here are some of the features you can expect to find in your room.
Free WiFi
TV
Free toiletries
Tea/Coffee facilities
Hair dryer
Telephone
Iron/Ironing board
Air conditioning
Our cheapest hotel at Heathrow Airport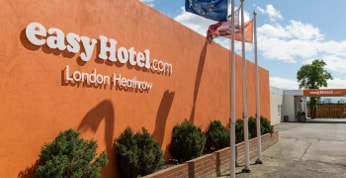 easyHotel Heathrow
From £72*
*Based on 8 days parking
easyHotel Heathrow
If you are looking to save some pennies on your stopover so you can spend them when you're actually on holiday, the easyHotel at Heathrow is our cheapest Heathrow Hotel.
Parking is provided on-site at the easyHotel and when it's time to head to the airport you can catch the Heathrow Hoppa for £8.50 return, it should take approximately 25 minutes to reach the airport.
WiFi is free in the public areas and for the first 2 hours in your room although there is a charge after that. It's also worth noting that there aren't any on-site dining facilities at the easyHotel although there are vending machines in the lobby and some excellent restaurants nearby.
While the rooms might be basic, they have the essentials you need to get a good night's sleep including air conditioning, heating and an ensuite shower and WC. Here are a few of the other features you'll get.
WiFi - Free for the first 2 hours
TV
Fresh towels
Or, if neither of these suits your needs why not check out our full selection of Heathrow Hotels.
All information is correct at the time of writing. For the latest information please check with the hotels.
Heathrow Terminal 2 Departures
Most of the flights leaving from Terminal 2 departures are to European destinations although there are a several long-haul flights. Below you can find a list of the airlines that are currently based at Terminal 2.
Aegean Airlines
Air Canada
Air China
Aer Lingus
Air India
Air New Zealand
ANA
Asiana Airlines
Austrian Airlines
Austrian Airlines
Avianca
Brussels Airlines
Croatia Airlines
Egyptair
Ethiopian Airlines
EVA Air
Eurowings
Flybe
Germanwings
Icelandair
LOT Polish Airlines
Lufthansa
SAS - Scandinavian Airlines
Singapore Airlines
South African Airways
Swiss International Airlines
TAP Portugal
Thai Airways
Turkish Airlines
United Airlines
Terminal 2 Transfers
If you find yourself at Terminal 2 when you should be at one of the other Heathrow Terminals then here is a quick guide to getting between them:
Terminal 3 - You can walk to Terminal 3 in around 10 minutes using the pedestrian underpass.
Terminal 4 - There is a free shuttle bus that runs to Terminal 4 and takes about 20 minutes.
Terminal 5 - To get to Terminal 5 you can catch the free Heathrow Express which runs every 15 minutes and takes about 20 minutes.
All information is correct at the time of writing.
Terminal 2 Shops
Whether you need to get some last minute holiday bits, fancy a snack or just want to have a browse before your flight, we thought it might be helpful if you knew which shops are available at Heathrow Terminal 2:
BOSS
Boots
Bottega Veneta
Bulgari
Burberry
Case
Cath Kidston
Caviar House & Prunier
Dixons Travel
Excess Baggage Company
Hamleys
Harrods
Harrods - Fine Watch Room
John Lewis
Kurt Geiger
M&S Simply Food
Michael Kors
Mulberry
Paul Smith
Plaza Premium
Rolex
SIM Local
Shoeshine Express
Smythson
Sunglass Hut
Ted Baker
Thomas Pink
Travelex
WHSmith
We Know London
World Duty Free
World of Whiskies
Terminal 2 Restaurants
If you're feeling a bit peckish before your flight, or you'd just like a little pre-holiday tipple, we've put together a list of the various restaurants you can find at Heathrow Terminal 2 so you know where to head.
Ca'puccino - An authentic Italian coffee house offering typical and regional Italian dishes.
Caffé Nero - Serving excellent handcrafted Italian coffee alongside sandwiches, paninis and light bites.
Caviar House & Prunier Seafood Bar - Offering quick service with exquisite seafood and world's finest Prunier Caviar.
Costa - Providing a range of delicious coffees alongside sandwiches, paninis, light bites and tasty desserts.
EAT. - A range of hot and cold food made fresh daily; soups, hot pots, salads and sandwiches to name a few.
Heston's The Perfectionists' Cafe - Created by Heston Blumenthal and offering exceptional and delicious food quickly with an emphasis on some of Britain's favourite dishes.
La Salle - A blend of classic French cooking and modern influences plus a great range of beers, wines and cocktails.
Leon - A fast food restaurant with a difference; everything is freshly prepared and there are plenty of "free from" options to suit your dietary requirements.
London's Pride by Fuller's - Offering a traditional gastropub experience with a "grab and go" option as well as a specially brewed Terminal 2 lager named "Wingman".
The Flying Chariot - Set over two floors this Wetherspoon pub offers an award-winning menu of tasty and affordable food.
The Gorgeous Kitchen - A menu of lighter dishes as well as traditional British cuisine all prepared with fresh, hand picked seasonal produce.
Wondertree - Offering global cuisine throughout the day including a selection of vegetarian and gluten-free dishes.
YO! Sushi - Delicious and fresh Japanese food displayed on a conveyor belt for you to pick and choose from.
All information is correct at the time of writing.