The Top 3 Nearest Heathrow Terminal 3 Hotels
Booking a stay at one of our Heathrow Terminal 3 hotels could be the best way to save you time and avoid hassle on the day of your flight. The hotels in Heathrow terminal 3 represent comfort and convenience, allowing you to make the most of your trip.
Here we have gathered the 3 nearest hotels to Heathrow Airport Terminal 3 based on distance, transfer time and ease of transfer; sometimes you'll find that the closer hotels aren't always the quickest or easiest. If you'd like to see the full range of hotels near Heathrow Airport you can find them on our Heathrow Hotels page.
Our Top Picks for Hotels at Heathrow Terminal 3:
Map
Take a look at our map below to see exactly where our Heathrow hotels at terminal 3 are in relation to the airport:
Below you'll find a bit more information about our hotels near Heathrow Terminal 3, giving you more of an idea which one would be most suitable. You can also enter your travel dates at the top of the page to check availability and pricing; when you're ready to arrange your stay at one of our Heathrow Terminal 3 hotels everything can be completed in one simple booking.
Hilton Garden Inn
From £190*
*Based on 8 days parking
Hilton Garden Inn
No need for transfers; the decadent Hilton Garden Inn is the only hotel connected to the central terminals by a covered walkway.
Enjoy no-stress parking with Blue Circle Parking's Meet and Greet service. Meet your professional Blue Circle Handover Captain at the Short Stay car park and they'll handle the parking. Once your return flight lands, your car will be waiting for you at the Short Stay so your journey home can get off to a seamless start.
After making use of the on-sight fitness centre, why not visit the rooftop Runway Bar for incredible panoramic views and a drink or two. Enjoy dinner at the Apron Bar & Restaurant, which offers a delicious international menu of Mediterannian meals, Asian fusion options and more.
Freshly built for 2019, this hotel is all about modern luxury. Wake up right where you need to be with more time to enjoy your stylish room which contains all the mod-cons, such as lots of spots to plug in all your electronics and free WiFi.
If you're just wanting to unwind before you fly, the rooms at the Hilton Garden Inn Heathrow are just the place. There's soundproofing and blackout curtains so you can drift off in peace despite being so close to the action, as well as:
HDTV
Air Conditioning and Heating controls
Mini Fridge
Toiletries
Suite Dreams by Serta Bed
Iron and Ironing board
Free WiFi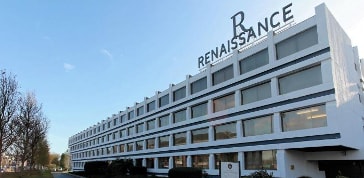 Renaissance Hotel Heathrow
From £164*
*Based on 8 days parking
Renaissance Hotel
A stay at the 4-star Renaissance Hotel will give you a comfortable, relaxing and stylish start to your holiday.
Only 1.3 miles from the airport you have 2 options for your parking. You can park at the hotel and catch the free Heathrow Hoppa for £8 return per person. Alternatively you can use the Meet and Greet service; on the morning of your flight you'll drive to the airport (this takes about 6 minutes) and drop your car off to be parked by a professional driver while you stroll into Heathrow Departures; this is the easiest method as when you return you can just jump in your car and head home.
The Renaissance Hotel at Heathrow Airport offers free WiFi as well as on-site gym and spa.
The on-site restaurant serves a delicious and very generous buffet breakfast in the morning; it costs £12.50 per person unless you book in advance with Airparks in which case it'll be £10 per person.
All the rooms at the Renaissance have soundproofing so you shouldn't have any trouble getting a good night's sleep. Here's a quick rundown of some of the features you'll find in your room.
Free WiFi
TV
Cable/Satellite
Tea/Coffee facilities
Hairdryer
Telephone
Iron/Ironing board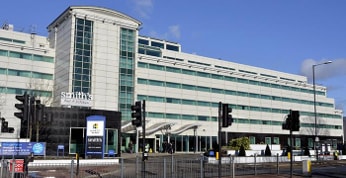 Hyatt Place Heathrow
From £156*
*Based on 8 days parking
Hyatt Place
Hyatt Place Hyatt place is a modern and contemporary hotel close to Terminal 3 offering free WiFi and a 24-hour gym in case you need that last minute workout.
Parking at Hyatt Place is provided by Blue Circle Parking Meet and Greet, making it incredibly convenient and easy to use. Park overnight at the hotel and in the morning just drive to the airport 1.9 miles away (it takes about 8 minutes). You'll be met by a professional Blue Circle driver who will park your car for you while you just walk into the terminal and start your holiday.
The hotel restaurant serves a tasty buffet breakfast which you can enjoy for just £15.95 per person.
The rooms at Hyatt Place are spacious and luxurious offering a high level of comfort; here are some of the main amenities you can find in your room.
Free WiFi
42" TV
Refrigerator
Tea/Coffee facilities
In-room safe
Work desk
Heathrow Terminal 3 Hotels - FAQs
Which hotel is best for Heathrow Terminal 3?
Which hotel for Heathrow Terminal 3 is best for you will depend on your priorities. If you're looking for the cheapest hotel for Heathrow Terminal 3, we'd recommend the easyHotel. If it's the closest hotel to T3 you're after then the Hilton Garden Inn will be just the ticket.
Which hotel can you walk to Heathrow Terminal 3?
The Hilton Garden Inn is the only hotel where you can walk straight to Heathrow Terminal 3. From the hotel it's a 10 minute walk via the pedestrian underpass.
How much are Heathrow hotels at Terminal 3 with parking?
Heathrow hotel and parking terminal 3 deals start from just £72 (room plus 7 days parking) - that's cheaper than many parking-only packages at Heathrow! Adding parking to your hotel booking can work out at just an extra £14. Book with confidence with Airparks thanks to our Never Beaten on Price Guarantee.
Is there a hotel connected to Heathrow Airport?
There are several different hotels connected to Heathrow Airport, meaning more time to enjoy a lie-in as there's no waiting for transfers. At Heathrow's central terminals (Terminal 2 and 3), the Hilton Garden Inn is connected by a covered walkway. At Terminal 5, the connected hotel is the luxurious Sofitel. There are several hotels connected to Terminal 4; the Crowne Plaza, Holiday Inn Express, Hilton and the Premier Inn.
Can I stay overnight in Heathrow Terminal 3?
Heathrow has 1 hotel located inside the airport, the Aerotel, which is connected to Terminal 3 Arrivals. There are also 'Airside Bedrooms' at No1 Lounges in Terminal 3, which can be booked by the hour between 6am - 10pm.
Heathrow Terminal 3 is open 24 /7 so some travellers in transit do choose to stay overnight. There are lounge chairs and benches without armrests dotted throughout, along with a few places that remain open overnight, including Cafe Nero and Costa.
Can you walk to Heathrow Terminal 3?
There are a couple of different ways to get between terminals at Heathrow. From Terminal 2 you can walk to Heathrow Terminal 3 via a sign-posted underground walkway. From Terminals 4 and 5, there are free trains from the terminal stations over to Heathrow Central stations (Terminals 2 and 3).
Are Terminal 2 and 3 connected at Heathrow?
Terminals 2 and 3 at Heathrow are connected by an underground walkway which takes around 10 minutes to cross.
To take a look at our latest pricing and availability for Heathrow hotels at Terminal 3 and make your booking, enter your dates in the search bar at the top of the page.
All information is correct at the time of writing. For the latest information please check with the hotels.
If our hotels near Heathrow Terminal 3 aren't quite what you're looking for you can always check out our full range of Heathrow Hotels or, below, you can find our most popular Heathrow Airport Hotel and our cheapest Heathrow Airport Hotel.
Our most popular Heathrow Hotel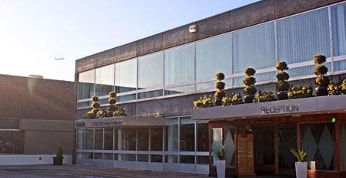 Thistle Hotel Heathrow
From £100*
*Based on 8 days parking
Thistle Hotel
The Thistle Hotel is a very popular and elegant 4-star hotel at Heathrow Airport.
Normally booked by those flying from Terminal 5, the Thistle Hotel is still a favourite with guests for any terminal. The sleek and contemporary surroundings provide the perfect space in which to relax and with free WiFi throughout, a free breakfast and free access to the adjacent fitness centre, you should find everything you need.
Parking is provided on-site at the hotel making it very easy. When it's time to head from the hotel to terminal 3 Heathrow you can catch the POD shuttle; it runs every 3 minutes and takes 5 minutes to get to terminal 5. The POD costs £5 per person, each way.
From Terminal 5 you transfer to the other terminals on either a train or bus; these journeys take roughly 20 minutes.
Rooms at the Thistle Hotel are equipped with soundproofing and air conditioning making it easy for you to get a great night's sleep. Here are some of the features you can expect to find in your room.
Free WiFi
TV
Free toiletries
Tea/Coffee facilities
Hair dryer
Telephone
Iron/Ironing board
Air conditioning
Our cheapest hotel at Heathrow Airport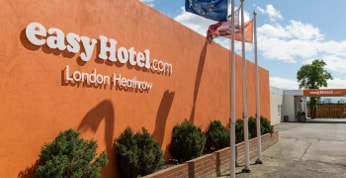 easyHotel Heathrow
From £72*
*Based on 8 days parking
easyHotel Heathrow
If you are working to a budget or are just looking for somewhere to rest your head from our hotels at terminal 3 Heathrow, then it's worth looking at the easyHotel at Heathrow.
You can park your car on-site at the easyHotel for the duration of your trip. When it's time to fly you can catch the Heathrow Hoppa to Heathrow terminal 3 from the hotel for £8.50 return, it should take approximately 25 minutes to reach the airport.
For the first 2 hours in your room the WiFi is free although after that there is a charge. It's also worth noting that there aren't any on-site dining facilities at the easyHotel although there are vending machines in the lobby and some excellent restaurants nearby.
While the rooms might be basic, they have the essentials you need to get a good night's sleep including air conditioning, heating and an ensuite shower and WC. Here are a few of the other features you'll get.
WiFi - Free for the first 2 hours
TV
Fresh towels
Or, if neither of these suits your needs why not check out our full selection of Heathrow Hotels. Alternatively, search for your dates at the top of the page to see the latest availability for all of our terminal 3 and Heathrow hotels.
All information is correct at the time of writing. For the latest information please check with the hotels.
Heathrow Terminal 3 Departures
Flights from Terminal 3 departures are mostly long-haul but there are some European destinations too. Below you can find the airlines currently operating out of Terminal 3:
American Airlines
British Airways
Cathay Pacific
Delta Airlines
Emirates
Finnair
Garuda Indonesia
Iran Air
Japan Airlines
LATA Airlines
MEA Middle East Airlines
Pakistan International Airlines
Philippine Airlines
Qantas
Royal Jordanian
Sri Lankan Airlines
Virgin Atlantic
Vueling
Terminal 3 Transfers
If you need to get to one of the other Heathrow Terminals here's how to do so:
Terminal 2 - You can walk to Terminal 2 in 10 minutes using the pedestrian underpass.
Terminal 4 - A free shuttle bus runs to Terminal 4 and takes about 20 minutes.
Terminal 5 - To get to Terminal 5 you can jump on the free Heathrow Express takes about 20 minutes and runs every 15 minutes
All information is correct at the time of writing.
Terminal 3 Shops
Whether you need to get some last minute holiday bits, fancy a snack or just want to have a browse before your flight, we thought it might be helpful if you knew which shops are available for some retail therapy when you head over from your hotel to Heathrow Terminal 3:
Boots
Bulgari
Burberry
Carat
Cartier
Cath Kidston
Caviar House & Purnier
Chanel
Dixons Travel
Etro
Excess Baggage Company
Glorious Britain
Gucci
Harrods
Hermes
Jack Wills
Jo Malone London
Kurt Geiger
Louis Vuitton
M&S Simply Food
Missoni
Monica Vinader
Montblanc
Mulberry
MAC Cosmetics
No1 Lounges
Paul Smith
Post Office
Ralph Lauren
Rolling Luggage
SIM Local
Salvatore Ferragamo
Smythson
Sunglass Hut
Sunglasses Boutique
Superdry
Swarovski
Ted Baker
The Bookshop by WHSmith
Thomas Pink
Tiffany & Co.
Travelex
Voyager Entertainment
WHSmith
Watches of Switzerland
We Know London
World Duty Free
World of Whiskies
Terminal 3 Restaurants
Although many of our hotels at Heathrow terminal 3 have restaurants of their own, if you've got a bit of time before your flight and fancy a bite to eat at the airport we've put together a list of the various restaurants available at Terminal 3. Many of these restaurants offer a "15 minute menu" meaning that the food will be with you within 15 minutes of ordering. Some of the restaurants also offer "in flight picnic" menu options which can be enjoyed during your flight. If either of the options is available it will be indicated at the restaurant.
Caffé Nero - Serving excellent handcrafted Italian coffee alongside sandwiches, paninis and light bites.
Caviar House & Prunier Seafood Bar - Offering quick service with exquisite seafood and world's finest Prunier Caviar.
Caviar house Oyster Bar - Well-known for its delicious seafood the Oyster bar is a taste of luxury.
Costa - Providing a range of delicious coffees alongside sandwiches, paninis, light bites and tasty desserts.
EAT. - A range of hot and cold food made fresh daily; soups, hot pots, salads and sandwiches to name a few.
Giraffe Stop - Serving a range of delicious food including hot dogs, and bloomer sandwiches, Giraffe Stop has everything you need!
Leon - A fast food restaurant with a difference; everything is freshly prepared and there are plenty of "free from" options to suit your dietary requirements.
Oriel French Restaurant & Bar - Offering cuisine inspired by classic French dishes for breakfast, lunch and dinner.
Pilots Bar & Kitchen - A vintage-inspired all-day brasserie offering a range of traditional British and international classics borrowing from the golden age of the 1950s.
Pret A Manger - Fresh sandwiches, salads, wraps and hot soups to keep you fuelled throughout your day.
Strada - With views of the open kitchen, Strada delivers contemporary and delicious food for breakfast, lunch and dinner.
The Curator - Ingredient-led cuisine inspired by the changing seasons in Britain blended with a range of artisan cocktails, craft beers and ales.
The Market Gardener - Serving traditional pub grub in a cosy and friendly environment.
The Three Bells - All day breakfasts to burgers, salads and bar snacks, this Heathrow pub will give you plenty to choose from.
All information is correct at the time of writing.