The Nearest Heathrow Terminal 5 Hotels
Take a look at our hotels close to Heathrow Terminal 5 for an easy and hassle-free stopover when you're flying from Heathrow.
Departing from Terminal 5 at Heathrow Airport? Booking yourself into a Terminal 5 hotel could be the best way to ensure you wake up refreshed and ready to fly with only a short walk or transfer to the airport. You can compare all our Heathrow Terminal 5 hotels by simply entering your required stopover date at the top of the page and clicking 'Search'. we'll show you everything that's available with live pricing.
| | |
| --- | --- |
| 🏨 Heathrow Terminal 5 Hotels: | 4 |
| 🚶 Closest Heathrow Terminal 5 Hotel: | Sofitel Hotel |
| 💸 Cheapest Heathrow Terminal 5 Hotel: | easyHotel |
| 💙 Airparks favourite: | Thistle |
Below are our top hotels near terminal 5 chosen based on distance from Heathrow Airport, transfer times and ease of transfer to give you a relaxing stay before your flight. If you'd like to see our full range of hotels near Heathrow Airport you can find them on our Heathrow Hotels page.
Our Heathrow Hotels at Terminal 5: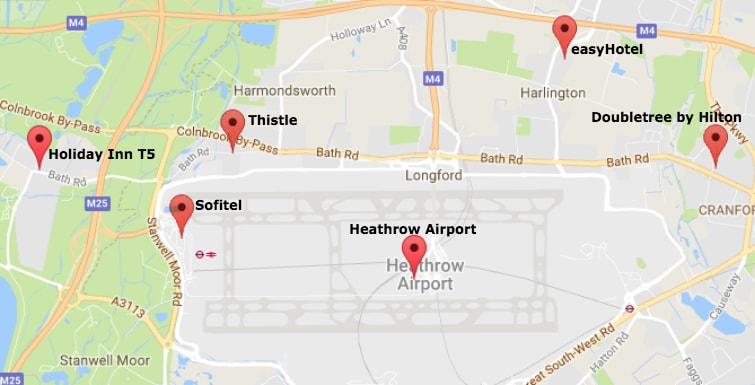 Below we'll go into a bit more detail about our hotels near Heathrow Terminal 5 to give you an idea which one might be most suitable for you. At the top of the page you can enter your travel dates to check up to date pricing and availability; when you are ready to arrange a stay at one of our Heathrow Airport hotels near Terminal 5 you can do so in one simple online booking.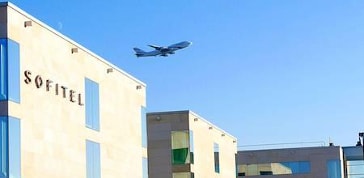 Sofitel Heathrow
From £219*
*Based on 8 days parking
Sofitel Heathrow
The Sofitel is not only connected to Heathrow Terminal 5 for maximum convenience, but it's also the only 5-star accommodation available at Heathrow Airport so if you are looking to really treat yourself this is the ideal hotel.
Parking is provided on-site at the Sofitel and the covered walkway connecting the hotel to Terminal 5 takes a mere 5 minutes to walk down; once you reach the terminal you can grab a free bus or train to the other terminals. While you're at the Sofitel you can enjoy free WiFi, a 24 hour fitness centre, 2 on-site restaurants and even a peaceful Zen Garden.
As this hotel is in Heathrow Airport, in the morning you'll have more time to enjoy a generous breakfast buffet including all the usual hot and cold breakfast items as well as some more international dishes such as breakfast curry and sushi, there really is something to suit every taste. Breakfast costs £19.95 per person.
The elegant and opulent rooms are the perfect, sophisticated space for you to really unwind and thanks to the free WiFi you can brag about it to your friends on social media. Here are a few of the features of your well-equipped room.
Free WiFi
TV
Mini Fridge
Tea/Coffee Facilities
Iron/Ironing board
Soundproofing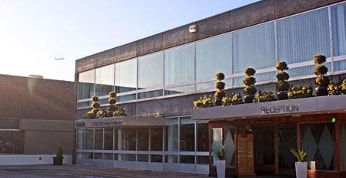 Thistle Hotel
From £100*
*Based on 8 days parking
Thistle Hotel
A modern and stylish, 4-star hotel, the Thistle Hotel is just a few miles from Heathrow Airport and provides free WiFi throughout as well as a free breakfast buffet. There's even a fitness centre next door which, as a guest of the Thistle Hotel, you have access to.
You can park at the secure hotel car park for the duration of your trip so all you need to do is drive directly to the hotel and find a space. Getting to Heathrow Airport is via the driverless POD shuttle which runs every 3 minutes and takes just 5 minutes to get to the airport. The POD shuttles costs £5 per person each way.
The free breakfast buffet is available from 06:00AM and offers both cooked and continental breakfast items that should get your day off to the right start.
With air conditioning and soundproofing the rooms at the Thistle Hotel are the perfect, contemporary spaces to really relax before your flight from Heathrow Terminal 5. Below are some of the features you can expect from your room.
Free WiFi
TV
Free toiletries
Tea/Coffee facilities
Hair dryer
Telephone
Iron/Ironing board
Air conditioning
Sound proofing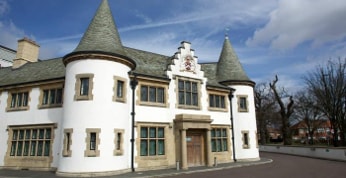 Doubletree by Hilton
From £119*
*Based on 8 days parking
Doubletree by Hilton
A friendly hotel, the Doubletree by Hilton offers free WiFi, a 24-hour fitness centre if you need a last minute workout and even a free warm cookie upon arrival.
Situated 3 miles away from the Airport parking at the Doubletree Hilton is provided by Drivefly Meet and Greet and it's only an 8-10 minute drive from the hotel to the car park. You'll be met at the airport by a professional Drivefly driver who will take care of parking your car while you get on with your holiday.
A generous breakfast buffet greets you in the morning costing £17 per person unless you book with reception the night before in which case it's just £12 per person.
With all the modern amenities you'd expect the rooms at the Doubletree by Hilton are comfortable and contemporary; below are a few more facilities you can expect:
Free WiFi
40" TV
Freeview channels
Soundproofing
Tea/Coffee facilities
Hair dryer
Telephone
Iron/Ironing board
Air conditioning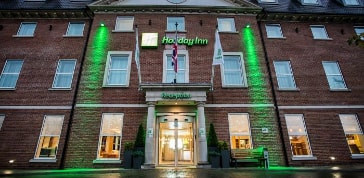 Holiday Inn T5
From £136*
*Based on 8 days parking
Holiday Inn T5
The Holiday Inn T5 lives up to the Holiday Inn reputation for comfort and convenience with all the facilities you'd expect from a modern hotel and any kids under 17 stay for free when sharing a room with their parents.
3.3 miles from Heathrow Airport, parking at the Holiday Inn T5 is provided by Drivefly Meet and Greet. On the day of your stay you can park for free in the on-site car park, then in the morning you drive to Heathrow Airport to meet your driver, it's about a 7 minute drive, who will park your car for you while you stroll into departures; nice and easy.
Breakfast at the Holiday Inn T5 is a large and delicious buffet with plenty of options to fuel you for the day. The breakfast costs £14.50 per person unless you book it in advance with Airparks for £10 per person.
The comfortable and airy rooms at the Holiday Inn T5 are a great place to relax after a long day of travel. Here are some of the amenities you can expect to find in your room:
Free WiFi
TV
Cable/Satellite channels
Hair dryer
Tea/Coffee facilities
Telephone
Iron/Ironing board
Air conditioning
If these Heathrow hotels for Terminal 5 don't quite suit your needs or you're working to a budget and are simply looking for somewhere to rest your head then it might be worth looking at our cheapest Heathrow hotel. You can also see our full range of Heathrow hotels here.
Our cheapest hotel at Heathrow Airport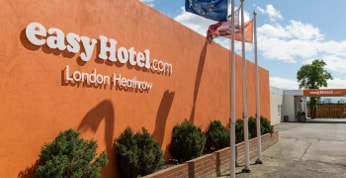 easyHotel Heathrow
From £72*
*Based on 8 days parking
easyHotel Heathrow
If you're sticking to a budget then the easyHotel at Heathrow Airport could be just the thing - a simple, no frills hotel.
You'll find parking is provided on-site at the easyHotel and when you need to get to the airport you can catch the Heathrow Hoppa for £8.50 return - it should take approximately 25 minutes to reach the airport.
For the first two hours in your room the WiFi is free, however after that there is a charge. There aren't any on-site dining facilities at the easyHotel although there are vending machines in the lobby and excellent restaurants within walking distance.
Although basic, the rooms have the essentials you need to get a good night's sleep such as air conditioning, heating and an ensuite shower and WC. Here are a few of the other features you'll get.
WiFi - Free for the first 2 hours
TV
Fresh towels
Or, why not check out our full selection of Heathrow Hotels.
FAQs:
Is there a hotel connected to Heathrow Airport?
For Heathrow Terminal 5, there is a connected hotel, the Sofitel, which is connected to T5 by a covered walkway.
Can you walk to Heathrow Terminal 5?
If you're looking to walk to Heathrow Terminal 5 from your hotel, then the Sofitel is for you, as it's the only hotel connected to Terminal 5 by a covered walkway. To get from Heathrow Terminal 5 to the other terminals, you can take the free shuttle trains from each terminal's station.
How do I get from Heathrow T5 to the Thistle Hotel?
To get from Heathrow Terminal 5 to the Thistle Hotel, take a shuttle in one of the driverless Heathrow pods, which cost £5 each way and take just 5 minutes to get to the hotel.
Is there a shuttle bus between Heathrow terminals?
To get to Terminal 5 from the central terminals (2 &3) at Heathrow, take the Heathrow Express. This runs every 15 minutes.
What is Heathrow Hoppa?
The Heathrow Hoppa is a regular shuttle bus service that travels between hotels and Heathrow Terminals 2, 3, 4, and 5.
All information is correct at the time of writing. For the latest information please check with the hotels.
Heathrow Terminal 5 Departures
Terminal 5 is the newest addtiion to Heathrow Airport and only serves 2 airlines:
Terminal 5 Transfers
If you need to get to one of the other Heathrow Terminals here's how to do so:
Terminal 2 & 3 - Take the free shuttle bus to either Terminal 2 or Terminal 3, it takes around 20 minutes.
Terminal 4 - To get to Terminal 4 from Bus Stop 7 catch either the 482 or the 490 for free.
All information is correct at the time of writing.
Terminal 5 Shops
Whether you need to get some last minute holiday bits, fancy a snack or just want to have a browse before your flight, we thought it might be helpful if you knew which shops are available at Heathrow Terminal 5:
Accessorize
Armani Collezioni
BOSS
Be Relax Spa & Lounge
Boots
Bottega Veneta
Bradley Smith Hair Express Bar
Burberry
Cartier
Cath Kidston
Caviar House & Prunier
Chanel
Chloé
Collection
Dixons Travel
Dunhill
Ermenegildo
Zegna
Excess Baggage Company
Fortnum & Mason
Glorious Britain
Gucci
Hamleys
Harrods
Hermes
Kate Spade New York
Kurt Geiger
Longchamp
Louis Vuitton
M&S Simply Food
Montblanc
Mulberry
Paul Smith
Prada
Ralph Lauren
Reiss
Rolex
Rolling Luggage
SIM Local
Saint Laurent
Shoeshine.co
Smythson
Stella McCartney
Sunglass Hut
T5 Gallery
Ted Baker
The Bookshop by WHSmith
The Harry Potter Shop
Thomas Pink
Tiffany & Co.
Tod's
Travelex
Valentino
Voyager Entertainment
WHSmith
Watches of Switzerland
We Know London
World Duty Free
World of Whiskies
Terminal 5 Restaurants
If you're feeling a bit peckish before your flight, or you'd just like a little pre-holiday tipple, we've put together a list of the various restaurants you can find at Heathrow Terminal 5 so you know where to head. Also keep an eye out for the "15 minute menu" option at these restaurants, this indicates that your food will be served within 15 minutes of you ordering, a great service in a busy airport. Some of the restaurants also offer an "in flight picnic" option where certain menu options can be packaged up for you to enjoy while you fly.
Caffé Nero - Serving excellent handcrafted Italian coffee alongside sandwiches, paninis and light bites.
Carluccio's - An Italian chain offering freshly baked pastries, paninis and delicious pasta dishes.
Caviar House & Prunier Seafood Bar - Offering quick service with exquisite seafood and world's finest Prunier Caviar.
Costa - Providing a range of delicious coffees alongside sandwiches, paninis, light bites and tasty desserts.
Fortnum and Mason - For a taste of the high life head to Fortnum and Mason where fine dining is the norm.
Giraffe - A family-friendly chain with a menu that provides dishes from all around the world to please everyone. Kids menus are also available.
Giraffe Stop - Serving a range of delicious food including hot dogs, and bloomer sandwiches, Giraffe Stop has everything you need!
Gordon Ramsay Plane Food - A unique dining experience including an open-kitchen Asian bar where diners can watch their meals being prepared.
Huxleys Restaurant & Bar - Providing a menu packed with traditional British classic pub meals using the best ingredients.
Itsu - Enjoy a vibrant taste of the Far East with Itsu's healthy menu.
Pilots Bar & Kitchen - Taking inspirations from the 1950s this brasserie style restaurant offers a range of British and International dishes.
Pret A Manger - Proving freshly made sandwiches, rolls, salads and hot wraps or soups to name but a few.
Starbucks - Iconic coffee, fresh sandwiches paninis cakes and pastries. what more could you want?
The Five Tuns - Serving up a delicious menu of sandwiches, burgers, salads and bar snacks as well as an extensive range of beers and ales.
Wagamama - A host of tasty Japanese meals including noodles and rice dishes that are sure to please everyone.
Wetherspoons Express - If you're looking for a quick bite then the Wetherspoons express might be just the ticket, tasty pub food served quickly.
All information is correct at the time of writing.