Holiday Inn Express Southampton
Directions to the Holiday Inn Express Southampton M27 | (Summary)Summary
For value and convenience without sacrificing comfort you can't do much better than the Holiday Inn Express at Southampton.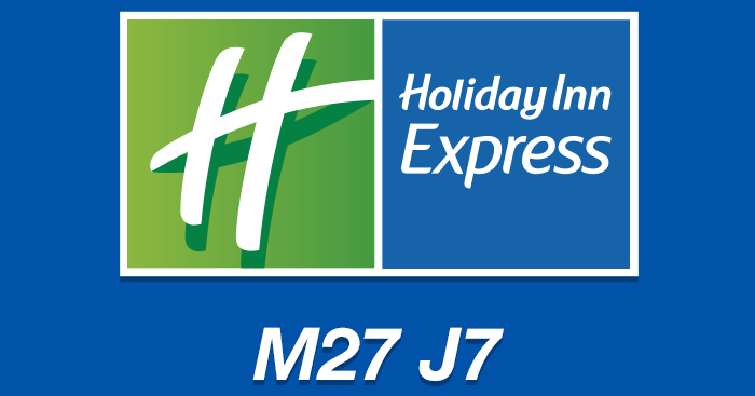 Located at junction 7 on the M27 the Holiday Inn Express is only a 10 minute drive from Southampton Airport and provides you with an excellent level of comfort, convenience and value. You even get free WiFi and a tasty breakfast thrown in!
Rooms
The rooms come complete with blackout curtains, pocket-sprung mattresses and a variety of different pillow types to make sure you can drift off to sleep as easily as you would at home. If you are looking to unwind a little after a day of travelling the free WiFi and Freeview TV will ensure that you are not lacking in entertainment and the comfortable rooms mean you'll be able to put your feet up while you enjoy your favourite shows.
| Room type | WiFi | Flat-screen TV |
| --- | --- | --- |
| Standard | ✓ | ✓ |
Restaurant
Breakfast:
Your free breakfast at the Holiday Inn Express Southampton is served in the welcoming and friendly atmosphere of the Conservatory Restaurant. You'll be able to tuck into a buffet breakfast of hot and cold items that'll really help you get the best possible start to your day.
Dinner:
For evening meals head back to the Conservatory Restaurant where you'll have a choice of delicious and hearty options from a range of classics. Whether you're looking for steak and ale pie, pizzas or a chicken korma you'll find something on the menu to whet your appetite.
Bar and lounge

Opening times:
After a long day on the road or in the air sometimes all you need is a refreshing glass of wine or a cold beer and the lounge area in the Holiday Inn Express is just the place to get it. With friendly staff and a great range of alcoholic and non-alcoholic beverages you'll really be able to relax here. If you get a bit peckish they also have an excellent selection of snacks and light bites.
Parking and transfers to Southampton Airport
There are 2 options for parking at the Holiday Inn Express:
The first is for your parking to be provided on-site at the Holiday Inn Express Southampton. Simply park your car and head to reception, when you return from your trip you know your car will be right where you left it. When it's time to head to Southampton Airport you'll need to order a taxi. The trip will take around 10 minutes and should cost you approximately £12.
Alternatively you can use the Maple Manor Meet and Greet service. On the night of your stay oyu can park in the hotel car park. In the morning drive to the airport where you'll be met by a professional driver who will park your car for you while you stroll into the airport. When you return your cat will be brought round to you so you can just head home.
Enter your dates at the top of the page to check availability and when you're ready you can arrange your stay in this Southampton Airport hotel in one easy booking!
Accessibility
The Holiday Inn Express at Southampton has 8 accessible rooms and all public areas are also accessible. The rooms and public spaces have visual alarms/alerts.
If you have any questions or specific requirements please contact the Holiday Inn Express on 0871 423 4876.
Hotel Check-in/out details
Check-in from 14:00PM
Check-out by 11:00AM
A quick summary of the Holiday Inn Express at Southampton:
The Holiday Inn Express at Southampton is a great choice if you're looking for an airport hotel with parking, offering a high level of comfort, convenience and value.
Pros
Cons

✓

Free WiFi

✗

Transfers cost around £12

✓

Free breakfast buffet

✗

No lunch menu

✓

Dogs welcome at additional charge
Hotel facilities
Free WiFi
On-site restaurant
On-site parking
Dog walking area
---
Room facilities
Free WiFi
Iron/Ironing board
Flat-screen TV
Air-conditioning
Telephone
Hair dryer
Blackout curtains
Tea/Coffee facilities
All information is correct at the time of writing. For the latest information please check with the hotel.