Servisair lounge at Birmingham
Wallow in peace at a Birmingham airport lounge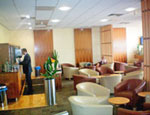 Birmingham airport is the largest in the Midlands, with many travellers choosing to fly from there from the surrounding areas. With that, it means the airport and its public departure lounges can often get hectic and stressful.
Who wants to fight for that last seat or end up with a sore knee where your significant other has perched themselves on it? There's no need to with the Servisair lounge at Birmingham airport.
Airport lounges at Birmingham are the perfect escapism for peace, tranquility and indulgence in FREE drinks and snacks before your flight. Help yourself as much as you like to your favourite tipple and truly relax in the Birmingham Servisair VIP lounge.
With complimentary newspapers and magazines, along with a TV and view of the runway, it's a great way to start your vacation early and get yourself in the holiday spirit.
Looking to do a spot of business before grabbing your flight? With FREE WiFi and quiet surroundings, it makes for the ideal environment whether you're on a business trip or just need to check your emails. The lounge does not allow children under 12, so it means that there's no youngsters running around to disturb the peace.
The Birmingham Servisair lounge has flight information screens, so there's no need to worry about knowing up-to-date information about your flight. With a choice of biscuits and crisps, along with a selection of hot, cold and alcoholic drinks (excluding champagne) it means sitting back and relaxing is the only chore at this lounge. And that's not a bad thing in the slightest.
Book your Servisair lounge at Birmingham airport today from just £16.00 p.p. by clicking the link below.

Published on February 25, 2010 by Ross Barnard