New Hotel - The Hampton by Hilton Hotel Liverpool
Airparks are dedicated to bringing you choice and great options to make your life at the airport easier. We are pleased to announce a new hotel on offer to you at the Liverpool John Lennon airport. The hotel is conveniently located opposite to the terminal building at Liverpool airport, meaning that you can wake up in the airport grounds and not have the long journey to the airport early in the morning. Airport hotels are also a great option if you have a late arriving flight and just want to relax.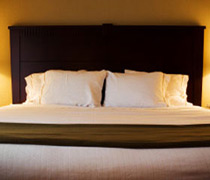 The Hampton by Hilton is a new brand concept introduced by Hilton (the second of it's kind to be built in the UK) and is available for stays from the 28th September 2009.
Room only packages (coded LPLHAM) are available from just £69.00 per room and is inclusive of English breakfast.
Parking packages (also including English breakfast) are also available from £84.00 for four days parking, £99.00 for eight days and £114.00 for up to fifteen days. Cars are stored on-site at the hotel or in a nearby secure compound (at the hotels discretion).
Transfers are not required as the hotel is within walking distance of the terminal building.
Airparks do not sell airport hotels, but are we pleased to work with our preferred partners Holiday Extras. Take a look today and book your room early for a great deal
Published on: September 14 2009
XL Leisure Group enters administration
A response to XL Leisure Group's administration
Airparks' World Cup promotion winner gets Manchester United season ticket
Mr Stewart from Grimsby, entered the Airparks World Cup prize draw and won a Manchester United season ticket.
Winter Deals - Free Weeks
Airparks is running an extremely advantageous offer that will benefit those who leave the country for a longer period this winter.
Which? Travel finds that Airparks offer cheapest deals at Glasgow
Travellers flying out of Glasgow Airport for the June half term can buy a week's holiday parking for just £32.99
Which?Travel finds that Airparks offer cheapest deals
Travellers flying out of East Midlands Airport for the June half term can buy a week's holiday parking for just £44.99