The Heston Hyde Hotel
Directions to the Heston Hyde Hotel | Summary
The Heston Hyde Hotel at Heathrow Airport is a luxurious and stylish, 4-star, hotel giving you a taste of the high-life for your pre-, or post-, flight stay.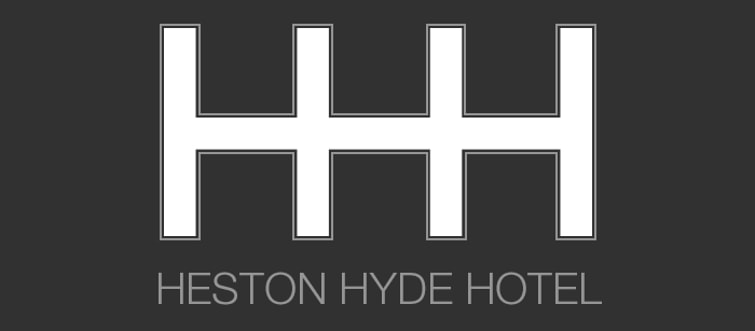 With free WiFi and it's own swimming pool, sauna and steam room, the Heston Hyde Hotel does everything it can to make sure you feel relaxed. As you unwind in the chic surroundings you'll feel like your holiday has started a day early.
Rooms
| Room type | WiFi | Flat-screen TV |
| --- | --- | --- |
| Standard | ✓ | ✓ |
The rooms at the Heston Hyde Hotel are spacious and comfortable, bringing you all the convenience you would expect from a modern, 4-star hotel. While relaxing on the plush and cosy bed you can see what's available to watch on the in-room TV or use the free WiFi to catch up with your social media. If you're feeling a bit more active then maybe a trip to the swimming pool for a few laps is in order.
All the rooms at the Heston Hyde Hotel have been thoroughly sound proofed so you shouldn't have any trouble getting a great night's sleep.
Restaurant and Bar

Breakfast served:
When it's time to leave your comfortable bed and find some breakfast head down to the Glasshouse Restaurant where you'll be able to enjoy a hearty buffet breakfast of cooked items and some continental choices.
In the evening you can return to the stylish surroundings of the Glasshouse Restaurant for a menu of delicious international cuisine including gourmet burgers, homemade butter chicken and succulent braised lamb shank to name but a few. There's certainly plenty here to whet your appetite.
In the Lobby Atrium Bar you can unwind with a cheeky tipple or two and if you do get peckish you can enjoy selections from the main menu here too.
Parking and transfers to Heathrow Airport
There are 2 options for parking at the Heston Hyde Hotel:
The first is to parkon-site, just drive to the hotel, park up and head to reception. To get to Heathrow you will need to take a taxi which the hotel reception can book for you, the journey is normally about 15 minutes and costs approximately £25.
Alternatively you can use the Drivefly Meet & Greet service. On the day of your stay at the Heston Hyde Hotel you can park in their car park free of charge. In the morning drive to the terminal you're flying from where you'll be met by a professional Drivefly driver who will park your car in their secured car park. When you return to the UK they'll bring your car back to you.
To check pricing and availability simply enter your travel dates at the top of the page. When you're ready to arrange your stay at the Heston Hyde Hotel you can do so in one easy booking.
Accessibility
If you have any questions or specific requirements please contact the Heston Hyde Hotel on 020 8572 1818.
Hotel check-in/out details
Check-in from 14:00PM
Check-out by 11:00AM
A quick summary of the Heston Hyde Hotel:
The Heston Hyde Hotel at Heathrow Airport is a luxurious and stylish 4-star hotel offering free WiFi and access to the on-site gym, swimming pool and sauna.
Pros
Cons

✓

Free WiFi throughout

✗

Breakfast not included

✓

On-site parking

✗

Transfers not included

✓

On-site fitness centre and swimming pool
Hotel facilities
Free WiFi
On-site parking
On-site restaurant and bar
On-site fitness centre and swimming pool
---
Room facilities
Free WiFi
Flat-screen TV
Work desk
Tea/Coffee facilities
Hair dryer
Telephone
Iron/Ironing board
Sound proofed
All information is correct at the time of writing. For the latest information please check with the hotel.