Heathrow Airport B&Bs
Wherever in the world you're travelling to from Heathrow Airport, a night's stay at a Heathrow bed and breakfast is ideal for those early flights and to get a good amount of rest in before you travel. Here are our Heathrow B&B top choices.
B&B at Radisson Heathrow - 4 Star

Prices range from £73.00 to £190
About
Indulge in luxury with a stay at the 4 star Radisson Blu Edwardian Heathrow before you fly! With impressive rooms that come with Vi-Spring mattresses and marble bathrooms, a night in the Radisson Blu Heathrow is a luxurious start to your travels. Save money on your breakfast by booking your stay with us! For £15.00 per person, guests can enjoy a divine full English breakfast buffet, cereal stations, pastries, fruit & nuts, smoked salmon, meats, and more.
Radisson Blu Heathrow Parking
Radisson Blu directions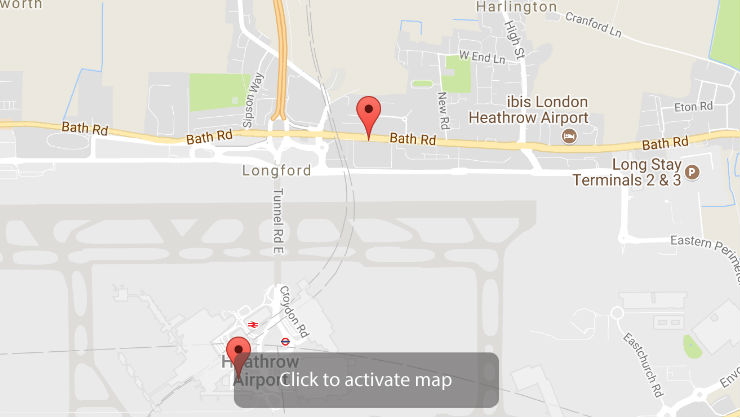 Breakfast at Renaissance Heathrow Airport - 4 Star

Prices range from £79.00 to £173
About
A spectacular 4 star hotel, the Renaissance London Heathrow Hotel is a 5 minute drive from Heathrow Terminals 2 and 3. With a stylish spa, 24 hour gym, and fantastic rooms, a stay at the Renaissance is a treat. All rooms are soundproofed and have been recently updated, boasting: free WiFi, new TVs, air-conditioning, bathrooms, and fridges. Start the day right with a hearty breakfast at the Renaissance. If booked through Airparks, you can get a discounted continental or cooked breakfast for just £10.00 per person!
Heathrow Airport Parking at Renaissance
Renaissance with Parking at the Hotel - as one of the closest hotels to Heathrow Airport, enjoy a parking deal with the Renaissance Hotel. Hand over your keys to reception (just in case your car needs to be moved to a different space when you're away) and hop on the Heathrow Hoppa shuttle bus. The Heathrow Hoppa goes to all terminals, and costs £4.50 per person one way, and £8.00 for a return. If you would prefer taxi transfers, taxis to T2 and T3 cost £9.00, and taxis to T4 and T5 cost around £15.00. There is also a free public bus which stops outside the Sheraton Skyline (5 minutes from the Renaissance).
Renaissance with Blue Circle Parking's Meet and Greet service - for a touch of luxury, this airport parking package includes Blue Circle Parking Meet and Greet. This means that you leave your car with your chauffeur at the Short Stay car park outside the terminal. When you arrive back, the chauffeur will bring your car back to the terminal. All you have to do is hand in your keys and your car will be parked for you. Your car will be driven to their secured car park which is around 15-20 minutes away from the airport. Overnight parking at the Renaissance Hotel is included in the price.
Getting to and from Heathrow Airport - For Meet & Greet - on the day that you fly, drive to the terminal that you're flying from. A Blue Circle Parking chauffeur will meet you and park your car for you. For Renaissance Parking at the hotel - use the Heathrow Hoppa Shuttle from the hotel or a free public bus (outside Sheraton Skyline).

Terminal 2: 7 minute shuttle ride in good traffic

Terminal 3: 9 minute shuttle ride in good traffic

Terminal 4: 10 minute shuttle ride in good traffic

Terminal 5: 15 minute shuttle ride in good traffic
Renaissance Heathrow directions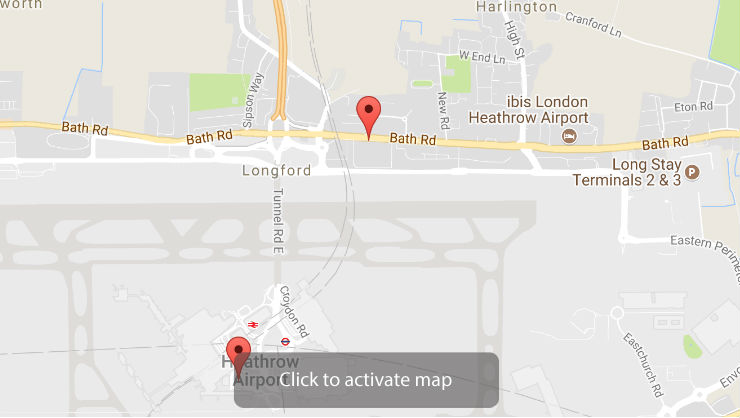 Other Heathrow Airport B&B Recommendations
If you're after some additional Heathrow bed and breakfast choices, here are some of our Heathrow B&B recommendations. Although we don't sell these, we hope these can be of help! If you opt for one of these B&Bs, don't forget that we can sort out your Heathrow Airport parking for you!
Harmondsworth Hall

Prices range from £62.00 to £99.00
A beautifully quaint B&B, Harmondsworth Hall is a big Grade II listed 17th century guest house. Nestled in the ancient parish of Harmondsworth, this impressive family run bed and breakfast is only 7 minutes from Heathrow Airport. All 12 bedrooms have en-suites and come with complimentary WiFi. Breakfast includes a Full English breakfast, choice of cereals, coffee, and orange juice. Please note that this B&B and Heathrow Airport parking need to be booked separately (room reservations need to be done via the B&B itself).
Directions to Harmondsworth B&B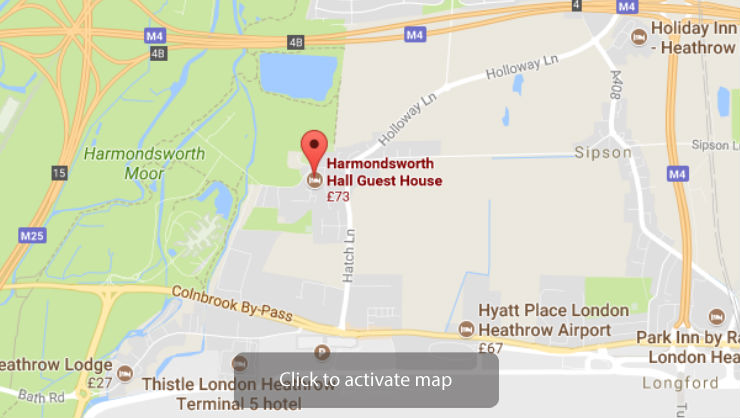 Apple House Guesthouse Heathrow
Prices range from £45.00 to £68.00
Situated just 5 minutes from London Heathrow Airport's Terminals 1, 2, and 3, Apple House is a quiet bed and breakfast that offers comfy rooms with free WiFi. Ideal for business or pleasure, Apple House Heathrow is the perfect location for travelling convenience; as well as being within easy reach of Heathrow Airport, it is near tourist attractions such as Windsor Castle and Royal Ascot. With a choice of Double, Family, and Single rooms with en-suite and shared bathroom options, there is something for everyone at this lovely B&B. You can only reserve a room through the hotel's website, but we are able to provide parking at Heathrow Airport separately.
Directions to Apple House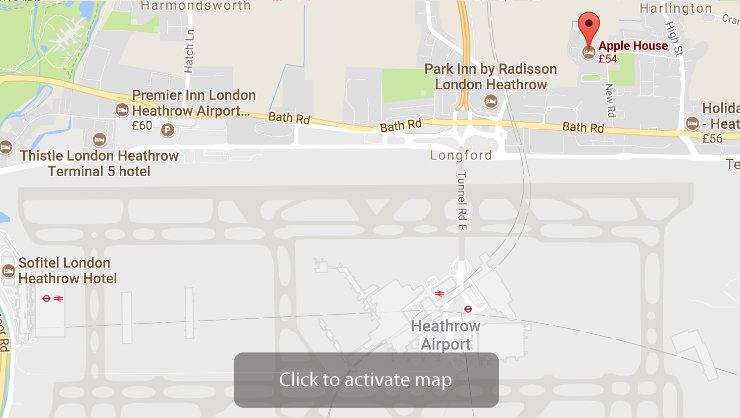 Heathrow Hotels with Parking
If an airport B&B isn't your thing, we have a great range of Heathrow Parking deals. Our Best Price Guarantee means that you won't find the same Heathrow Airport hotel parking offers elsewhere!