You are here: Home > News > Luton Ibis hotel room only package
Luton Ibis Hotel - Room only package
Airparks is always looking for new offers and choices to make your holiday extras cost less, and are pleased to announce a new package and discount at the Luton Ibis hotel.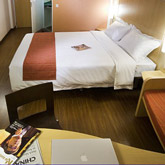 The Ibis airport hotel offers great value accommodation close to Luton airport, making it the perfect place to rest before your flight. The Luton Ibis Hotel is a 2 star hotel in an ideal position near to Luton Airport - perfect if you are travelling on a tight budget.
A room only package at the Luton Ibis is now available from just £50.00 per room.
Transfers are also available between 5am and 11pm and are charged at only £1.00pp each way.
Exclusive food offer: 10% discount on food and drink if you eat in the restaurant or bar.
Airparks do not sell airport hotels, but are we pleased to work with our preferred partners Holiday Extras. Take a look today and book your room early for a great deal
Published: September 18 2009