Hilton Ageas Bowl
Directions to Hilton Ageas Bowl | Summary
The Hilton Ageas Bowl will wow you from the stunning architecture to the luxurious and comfortable rooms where you can unwind before you set sail from Southampton Port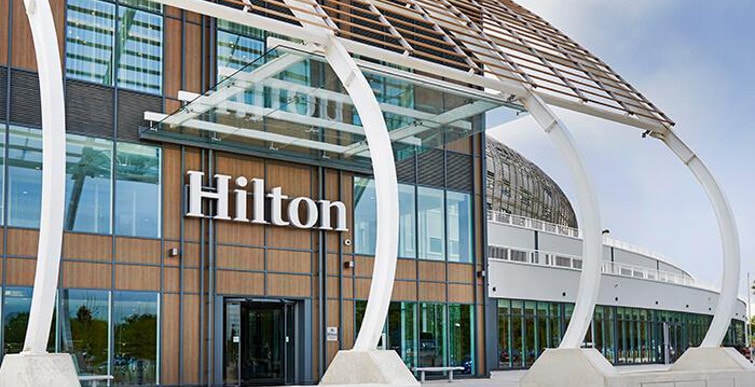 This modern, 4-star hotel offers countryside views as well as an 18 hole golf course! Treat yourself to a spa treatment while you're there and really get into the holiday spirit. You'll also benefit from free WiFi throughout the hotel, a free transfer to the port and we'll even throw in breakfast as well!
Rooms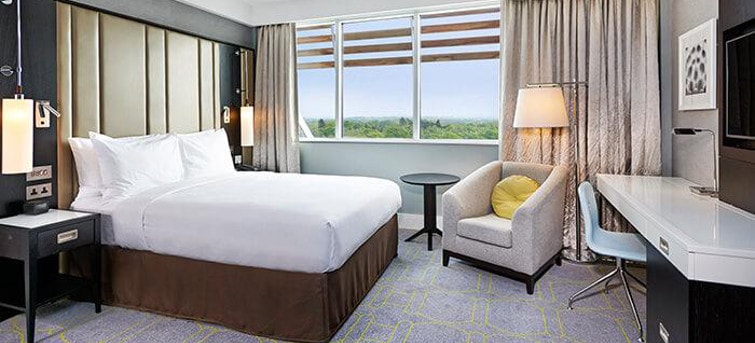 The contemporary rooms are spacious and comfortable, decorated in calming neutral colours so you'll be able to really put your feet up and unwind here. When it comes to getting your head down for a good night's sleep you'll find blackout curtains and air conditioning so you can set the room just as you want it before climbing into the plush bed.
There's a desk and free WiFi in the room if you have any last minute work to catch up on, or you could just relax in front of the large TV and brag on you social media about your luxurious surroundings.
| Room type | WiFi | TV |
| --- | --- | --- |
| Standard | ✓ | ✓ |
Breakfast
Served:
In the morning you can head down to Beefy's restaurant where you'll find a generous breakfast buffet of hot and cold breakfast items to get you on the move and your day heading in the right direction.
Restaurant
Opening times:
In the evening you can head back to Beefy's where you'll find a varied menu including delicious steaks cooked exactly the way you like them. There's plenty on the menu to keep everyone happy
Bar and lounge
The Lakeview sports bar commands stunning views of the golf course and has an informal and casual atmosphere. Here you can enjoy some lighter bites such as burgers or fish and chips and if you need a cheeky tipple the bar serves a range of beers, spirits, wines and cocktails.
Parking and transfers to Southampton Port
Parking or provided at the hotel so all you need to do is drive there and park up; there is a £5 fee to park. When you return your car will be just where you left it.
When it's time for you to head to Southampton Port the hotel can call a taxi for you; the trip takes around 20 minutes and is included in the price of your stay.
To check availability simply enter your dates at the top of the page. when you're ready to arrange your stay in this Southampton Port Hotel you can go ahead in one easy booking.
Accessibility
If you have any specific requirements or require any information on accessibility please contact the Hilton Ageas Bowl on 02382 020 900.
Hotel check-in/out details
Check-in from 15:00PM
Check-out by 11:00AM
A quick summary of Hilton Ageas Bowl:
A modern and sophisticated 4-star hotel with stunning architecture and fantastic leisure facilities.
Pros
Cons

✓

Free transfer via taxi

✗

20 minute transfer

✓

Free WiFi

✓

Free breakfast

✓

On-site fitness centre and spa
Hotel facilities
Free WiFi
On-site bar
On-site restaurant
On-site fitness centre and gym
---
Room facilities
Free WiFi
TV
Blackout curtains
Air-conditioning
Work desk
Tea/Coffee facilities
In-room safe
All information is correct at the time of writing. For the latest information please check with the hotel.