Macdonald Botley Park Hotel
Directions to Botley Park Hotel | Summary
Enjoy the peace and quiet of Macdonald Botley Park nestled amidst the Hampshire Countryside and escape the hustle and bustle of Southampton before you sail.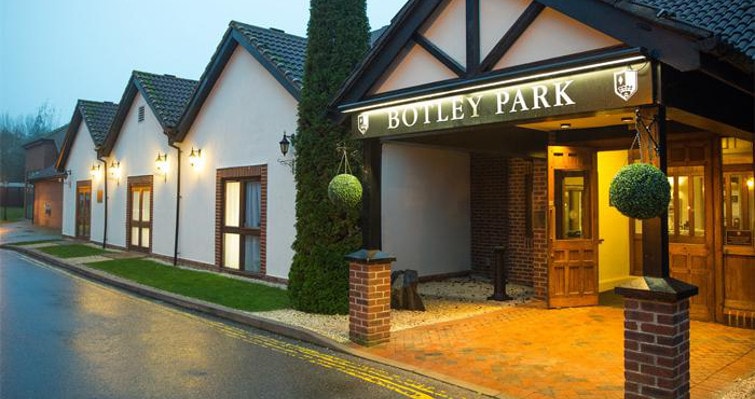 The tranquility of Macdonald Botley Park combined with the excellent facilities will make you think your holiday has started a day early! The hotel is home to a swimming pool, gym and a popular spa and you'll get free WiFi, breakfast and transfers to Southampton Port.
Rooms
The rooms at Macdonald Botley Park command views over the surrounding countryside and are elegantly and individually styled to ensure you have a calm space to unwind; you'll also find a large, comfortable bed so when it's time for you to drift off you'll have no trouble getting a good night's sleep.
Each room benefits from satellite TV and you'll find you have access to free WiFi throughout the hotel so you can keep an eye on your social media and brag to your friends about your luxury surroundings.
| Room type | WiFi | Satellite TV |
| --- | --- | --- |
| Standard | ✓ | ✓ |
Breakfast
Served:
Monday - Friday: 07:00AM - 09:30AM
Saturday, Sunday, Bank Holidays: 07:30AM - 10:30AM
In the morning, once you've dragged yourself from your comfy bed, you can head down to the Winchester Restaurant and tuck into your free breakfast. This generous buffet includes cereals, cold meats, pastries and a range of cooked items to get your day heading in the right direction.
Restaurant
Opening times:
Daily: - 18:30PM - 21:30PM
The menu at the Winchester Restaurant uses fresh ingredients to create traditional British dishes with a contemporary touch that are sure to get your mouth watering. Pair the delightful dishes with a selection of excellent wines and your evening meal could be the touch of luxury you deserve before your holiday really gets underway.
Bar and lounge
Monday - Thursday: 11:00AM - 18:00PM
Friday - Saturday: 09:00AM - 21:00PM
Sunday: 09:00AM - 18:00PM
The Sports Bar offers a casual atmosphere where you can enjoy a few drinks or some lighter meals from their family-friendly bar menu. You can also head out to the terrace with your food and drinks to really enjoy the surrounding countryside.
Parking and transfers to Southampton Port
Parking is provided at the hotel so all you need to is drive directly there and find yourself a parking spot; this is where your car will remain while you're away.
When it's time for you to head to Southampton Port the hotel operates a free transfer bus for the popular sailing times, the trip takes about 20 minutes and if you let the driver know which ship you're sailing on they can make sure they get you to the right place. When you disembark you'll need to get a taxi back to the hotel which normally costs around £20.
To check availability simply enter your dates at the top of the page. when you're ready to arrange your stay in this Southampton Port Hotel you can go ahead in one easy booking.
Accessibility
If you have any specific requirements or require any information on accessibility please contact the Botley Park Hotel on 0344 879 9034.
Hotel check-in/out details
Check-in from 14:00PM
Check-out by 11:00AM
A quick summary of Botley Park Hotel:
This luxury, 4 star hotel sits amidst beautiful Hampshire countryside to help you relax before your holiday.
Pros
Cons

✓

Free breakfast

✗

Free transfers only run to the port

✓

Free WiFi

✓

On-site leisure facilities

✓

Beautiful surroundings
Hotel facilities
Free WiFi
On-site restaurant
On-site leisure facilities
On-site parking
---
Room facilities
Free WiFi
Satellite TV
Trouser press
Tea/Coffee facilities
Large desk
Hair dryer
Iron/Ironing board
All information is correct at the time of writing. For the latest information please check with the hotel.