You are here: Home > News > Airparks
Airparks World Cup prize draw
Book to WIN an annual season ticket, Sky subscription, or an England kit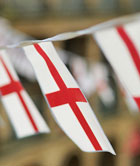 Airparks are getting into the spirit of the 2010 World Cup with a fantastic prize draw for all customers. We're giving away a season ticket to a football club of your choice, one year's Sky Sports subscription, or an official England football kit.
To enter, it's simple. Just book parking at one of our seven Airparks car parks* across the UK between March 15 and May 31, 2010. Once you've made your booking, you'll automatically be entered into the prize draw. What's more, every time you book parking with Airparks between these dates, you'll have an even better chance of being a lucky winner. (Conditions apply).
Airparks has secured car parks at Birmingham; Cardiff; East Midlands; Gatwick; Luton; Manchester and Newcastle - a range of choice from the UK's largest off-airport parking operator.
So, don't delay, book your parking with Airparks to be in it to win it.
Published on March 15, 2010 by Ross Barnard