You are here: Home > News > FREE Airparks Winter and Summer packs
FREE Airparks Winter and Summer packs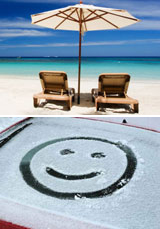 Airparks are currently offering a great limited promotion to all customers when making a booking between 25th January and 7th February 2010. Whether you're travelling during winter or right through to spring and summer - we've got a pack for you.
We know how the weather has been behaving lately and it doesn't bode well for those with upcoming travel arrangements.
Getting to the airport can be difficult in snowy conditions - piling even more pressure onto an already stressful procedure. After a relaxing trip away, no one wants to come back to face it all over again...
That's why at Airparks when you make a booking with us, we'll give you a FREE winter pack to make it an easy getaway on your return.
Preparing for a spring or summer break can be particularly stressful. If it's not what you've forgotten to buy, it's what you've forgotten to pack.
Well, there's no need to worry about those essentials with the Airparks Summer Pack. Travel adaptor, ear plugs, eye patch and a drawstring bag - there's something of use to everyone.
To claim your FREE pack, all you need to do is present your booking confirmation to reception staff at the Airparks car park. If your stay is prior to April 1 2010, you'll receive a FREE Airparks Winter Pack. For all stays' commencing April 1 2010, you can claim your FREE Airparks Summer Pack. (Both packs are subject to availability and can only be claimed upon presentation of valid printed booking confirmation).
All you need to do is book parking at an Airparks car park between 25th January and 7th February 2010 to take advantage of this offer.
Published on January 25 2010
---
Other Related Articles
Tunisia travel disruption. Monday, June 29, 2015
Important information for customers travelling to or returning from or affected by Friday's events in Tunisia.
Gatwick Airport Chauffeured Parking Service
Gatwick CPS offer a low cost, efficient and friendly personal parking service with high levels of security.
Gatwick Airport Mystery Hotels - Airparks Special Deals
Book an un-named four star airport hotel at Gatwick for a bargain price - rates start from £45 a night
Bristol Airport Holiday Inn
Enjoy low rates at the Bristol Holiday Inn - Room plus 8 day parking from £125 or room plus 15 days parking from £140.
Airparks featured in Which? magazine
Airparks airport parking get a mention for low prices in Which? consumer magazine.