You are here: Home > News > As volcanic ash returns, Airparks offers free overstay for stranded customers again
As volcanic ash returns, Airparks offers free overstay for stranded customers again
£140,000 worth of free parking given away during first phase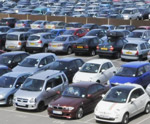 With the return of volcanic ash threatening disruption to flights across the UK once again, Airparks, the UK's largest off-airport car parking provider, is extending its offer of free overstay days to those customers affected. 
Flights at airports across Scotland and Northern Ireland are currently disrupted, by the situation described as dynamic and changeable by the Civil Aviation Authority. 
Airparks provides airport parking at Gatwick, Manchester, Birmingham, Luton, Cardiff, East Midlands, Glasgow and Newcastle airports. 
Travellers planning to fly to or from airports in the north of England, south west of England, Scotland, Northern Ireland and North Wales in the next few days are being advised to contact their airlines for the latest flight information.
Howard Dove, chief executive of Airparks, said: "The return of the volcanic ash is bad news for everyone. We want to do all we can to help alleviate customers' concerns.
"During the first phase of the crisis Airparks didn't charge for transferring and amending bookings and we gave away £140,000 worth of free parking to holidaymakers who had been stranded overseas. We also brought in extra staff to maintain our excellent customer service and we are ready to do the same again." 
Those with Airparks bookings affected by the disruption are advised to email volcano@airparks.co.uk or check the dedicated volcano page for the most up to date information.
Published by Maxine Clarke on May 6, 2010