You are here: Home > News > New Icelandic volcano ash threat
New Icelandic volcano ash threat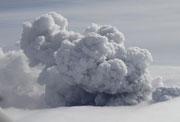 Latest news on the disruption
Ash from the latest eruption of the Icelandic volcano is affecting skies over Britain, closing some airports. Disruption is expected to spread south east in the next 72 hours.
Passengers who think they may be affected are advised to contact their airlines before setting out.
The National Air Traffic Services (NATS) has released the following statement at 10.45pm, Sunday 16 May :
"The high density ash cloud continues to move further south in the early hours of Monday morning.
"For the period 1am till 7am Monday, airports inside the no-fly zone as imposed by the CAA, include; London Heathrow, Gatwick, Farnborough, London City, Shoreham, Biggin Hill, all airfields in Northern Ireland, Scottish Western Isles, Oban, Campbeltown, Caernarfon and Aberdeen. Cardiff remains open but operations may be limited due to close proximity of the no-fly zone."
More information on airports in southern Ireland can be obtained from the Irish Aviation Authority website (www.iaa.ie).
Published by Mike Whiting on 17 May, 2010