Servisair lounge at Stansted airport
A great pre-flight experience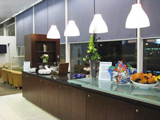 The Servisair lounge at Stansted airport is a modern and spacious area, perfect for ultimate relaxation before a long flight.
Stansted is a small but busy London airport, with over 22.8 million passengers passing through each year. For some, searching for a seat in the public departure lounge or fighting through the crowds makes your experience at the airport more stressful than needed. Why not make the time before your flight as hassle-free as possible and start your holiday early, but how? With the Servisair lounge at Stansted, of course.
Up to three hours before your flight, take advantage of a range of complimentary drinks and snacks. Choose from a selection of soft and hot drinks, along with a choice of alcoholic beverages (excluding champagne). You can also snack on crisps and biscuits whilst reading a free magazine or newspaper. A perfect way to escape the crowds and a take those last few hours easy.
If you've got kids, the Stansted Servisair lounge an ideal way to save hassle and ensure they're kept amused. There's no chasing them around a busy departure lounge, the Stansted lounge has enclosed areas if you'd prefer a secluded spot. If you'd rather join in the holiday atmosphere, there's also open seating areas with access to TVs. Wherever you are in the lounge, there's always access to up-to-date flight information, so it means there's no worrying in this hassle-free zone.
Book your lounge today, you can print off your own VIP lounge pass - convenient if you're due to travel in the near future.
Published on March 2, 2010.