Servisair lounges at Gatwick airport
Avoid the crowds with a Gatwick airport lounge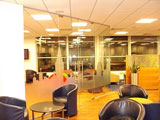 Gatwick airport - London's second busiest, serving hundreds of thousands of international and domestic flights each year. With a huge amount of passengers passing through each day, and with just two terminals, it's no wonder that the public departure lounges often get crowded and clamorous.
Well, there's no need to endure the hustle and bustle any longer with the choice of two Servisair lounges at Gatwick airport.
From just £14.50, wallow in the peace and tranquility of the Lingfield Servisair Lounge South Terminal or the Wentworth Servisair Lounge North Terminal at Gatwick airport. With complimentary soft drinks; hot drinks; alcoholic drinks and snacks, along with free newspapers and magazines to enjoy before your flight.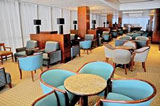 Got kids? Both these lounges are perfect. There's no chasing the youngsters around a busy departure lounge with dedicated family areas at each Servisair facility. With games consoles and a soft play area, it makes it a fun time for children and a more relaxing one for adults.
With two separate areas, whether you're seeking a quiet atmosphere or relaxing family time before your trip, both the Lingfield and Wentworth Servisair lounges are ideal.

Worried you might miss those important flight details? Fear not as both Servisair lounges have up-to-date flight information displayed in various areas.
Once you've spent time at the Servisair lounges at Gatwick, you'll wonder why you've never been before. Don't delay and book your Gatwick airport lounge today.