You are here: Home > News > Airparks' five steps to keep that holiday feeling
Airparks' five steps to keep that holiday feeling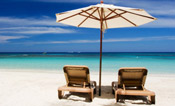 With summer drawing to a close and colder weather fast approaching - It could be time to start planning the next holiday to keep the winter blues at bay.
Airport parking company Airparks has come up with some helpful tips to make the return from any holiday run smoothly.
1. Take advantage of Airparks' Return Greet service costing just £77.95 for eight days. Airparks customers can have their car brought to the terminal when they return from holiday and head home straightaway. This is particularly helpful for families or travellers who have a late flight back.
2. Have the car cleaned. Airparks Birmingham now offers a package which combines airport parking with a car wash - for the low price of £35.92 for eight days plus a wash. It's much more pleasant to come home to a clean car than a dirty one, and to know there's one less chore to do.
3. Don't call work on holiday. A survey by the Institute of Leadership and Management in July 2010 found that a third of managers work while on holiday. Everyone can benefit from a break and the chance to recharge their batteries while away.
4. One of the best parts of a holiday is the exotic food, so make some holiday meals at home. Whip up a tasty pasta dish, a curry or a paella. See BBC food recipes for a paella recipe.
5. Print off holiday photos and show them to family and friends - a perfect opportunity to relive the fun times.
Published by Helen Gillilan on Wednesday 13, 2010