You are here: Home > News > Airparks Cardiff: We'll drop you right outside
Airparks Cardiff: We'll drop you right outside.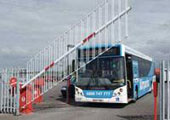 As of December 9, 2010, we made our already efficient Airparks service even more efficient. The transfer bus now drops customers right outside the terminal entrance - simply hop off the bus and walk into the terminal - you couldn't get any closer.
Howard Dove, Airparks CEO, said: "We are delighted for all our loyal customers that after lengthy discussions we have reached a long term agreement with Cardiff airport to drop off and pick up our customers close to the terminal, a location similar to the airport's own customer drop-off facility.

"While our new purpose built facility is being developed, we are also delighted that the airport are happy for Airparks to drop our customers off at the entrance to the terminal in the interim.

"We would like to thank all our customers for their continued support throughout this period".
Why is it good for you - the customer? It now means you don't have to walk very far to the terminal - great if you've lots of luggage, are travelling with children or have a disability.

Nearly 30,000 customers a year use Airparks Cardiff, so why not join them?
Published by Kelly Simmons on January 11, 2011